Art Tools for London
Art Tools for Travel to London: I wanted to use gouache on a sketchbook page, and decided to draw representative art tools that I am taking to London. The blue green color is from my Pelikan Gouache set, and it didn't go on as flat I hoped.
Pen Pocket for London Travel Sketchbook - made from Laminated NYC Subway Fabric: Several years ago I started to make pen pockets for my sketchbooks, and then I just carry my waterbrushes, a few special pens and pencils in a pencil case, and my very light plastic palette with my regular watercolor paints in a separate bag. My pen pocket has a pencil, eraser and a few Pigma Micron pens.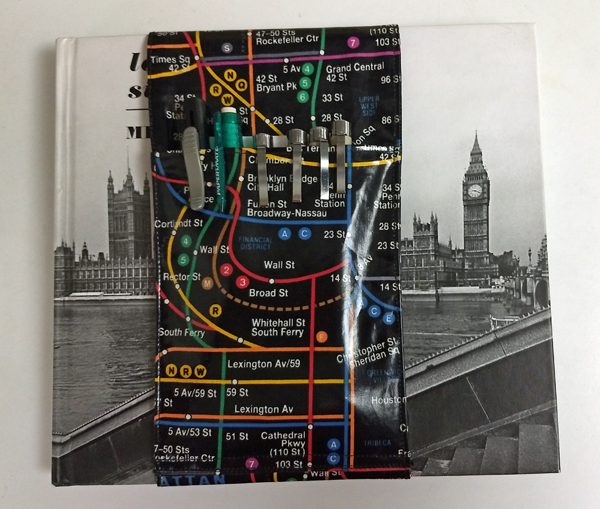 We have several more days in London, and the sketchbook with pen pocket travel with me easily during the day. We take long walks between our destinations and events, and I have managed to draw on at least one page per day, plus a note and a 2 X 2" highlight drawing on a grid I made before we left NYC. When drawing a full page, I do the drawing, take a photo, and paint each page later. My goal is to capture some aspect of our experiences each day, not look for iconic London scenes. Although my husband supports my drawing and painting, I try to limit the time spent by making it part of each day, not the focus of the day.