Visit to London: Part 1
My husband and I just returned from our 10 day London vacation. We rented a lovely one bedroom flat in South Kensington and thoroughly enjoyed our visit. I sketched at least one page per day, sometimes two. But I just concentrated on our activities for the day and sketched on site, took a photo, and painted later.
After we landed at Heathrow we were able to take the Piccadilly Underground to Gloucester St. Station, and then waited at Starbucks for the owner to email us when she arrived.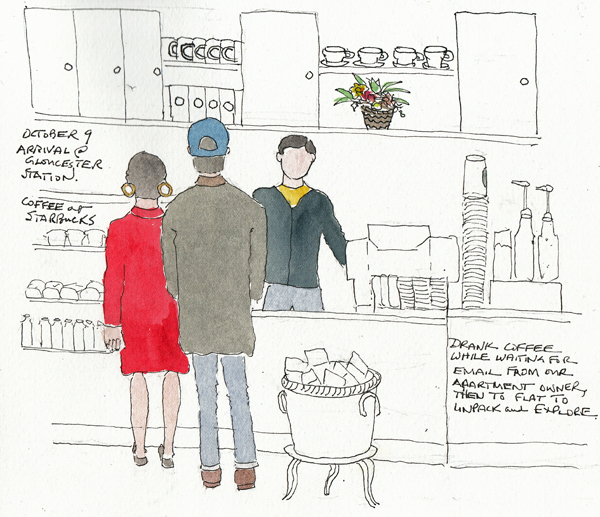 The National Gallery has the Courtauld Impressionist Paintings on exhibit while the Courtauld is being renovated. It was wonderful wandering around Trafalgar Square area, and seeing the exhibit, before taking a long walk all the way back past Harrods to our flat. Cezanne did 5 card player paintings, one with 5, one with 4, and three with 2 players. I painted the Met's Cezanne painting of the 4 Card Players several times, and then painted some of the individual players from Cezanne's preparatory paintings. And here is another one from the Courtauld.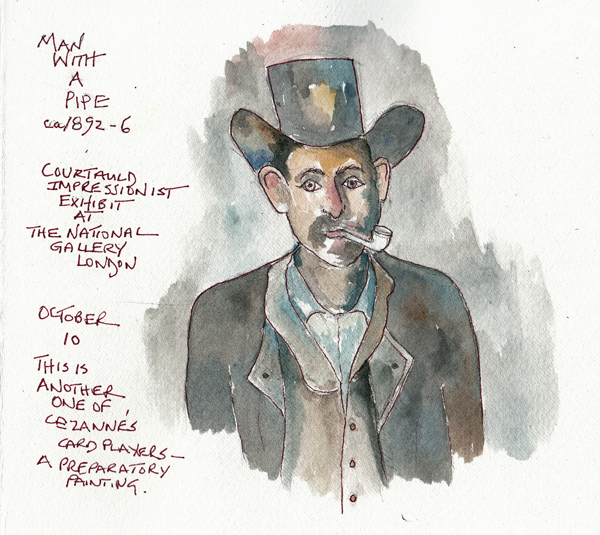 After lunch in Shoreditch we returned to Sloan Square by Underground and walked the whole area in Chelsea where our daughter and her family lived a decade ago. At the end of the afternoon we stopped on Fulham Road for a glass of wine across from the gym where our family went and our little grandchildren took swimming lessons.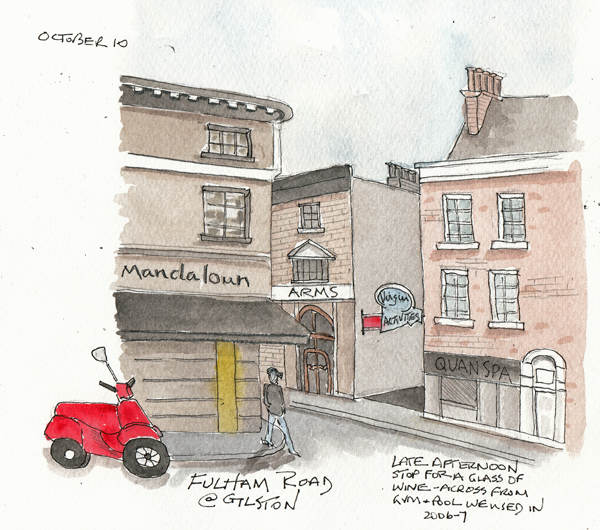 We had never been to Shoreditch, but wanted to try a new restaurant that was described in the New York Times. The area had lots of graffitti and murals painted on walls. This Rooster was painted directly across the street from the restaurant. Fun adventure and lunch at BRAT was delicious.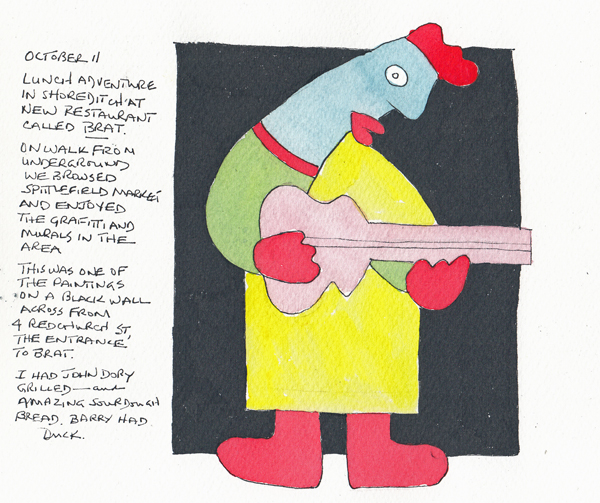 We spent one day in Oxford, one hour by train out of London. We made all the arrangements for the train and a University Tour weeks ago, and it was the worst weather we had in 10 days. However, Blackwells Book Shop, which began in Oxford, was a wonderful place to stop, browse, and have coffee and lunch in Caffe Nero in the bookstore. The sun came out just as our tour was beginning, and the rain began again almost as soon as we stopped for dinner before our train ride back to London.