Urban Sketchers 30 x 30 Challenge: June 26.29
Direct Painting for 30 X 30 Urban Sketchers June Challenge: Last summer I took a 3 hour workshop from Urban Sketcher Anne Watkins. I love her style of painting random people, especially those that she does onsite at Weddings. https://annewatkins.com/about.html
This image seemed perfect for the day after we left Martha's Vineyard. It was painted from an image that I previously sketched from a photo, and the only pen work was the tie on the sun hat. I'm not sure that I will ever acquire the skills to do paintings like this live.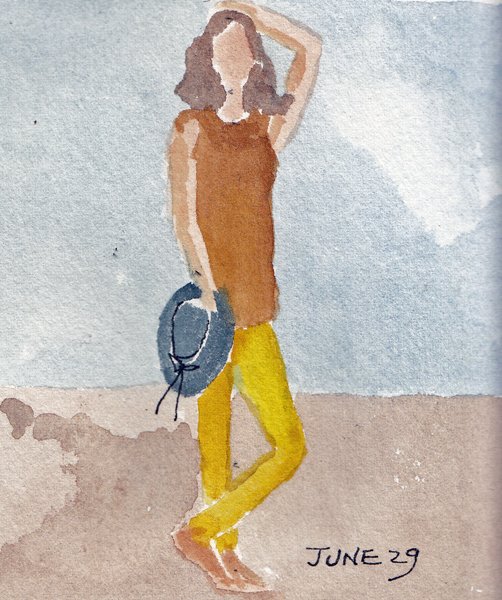 Sketchbook Page: In order to do every day of the challenge I had to sometimes do 2,3, or 4 direct paintings on one page of my Teesha Moore 16 page watercolor sketchbook. I marked off the areas with 1/4" artists tape before I painted. The flower and razor clam were painted from direct observation. The blue jay was painted from a photo I took of a wooden sculpture.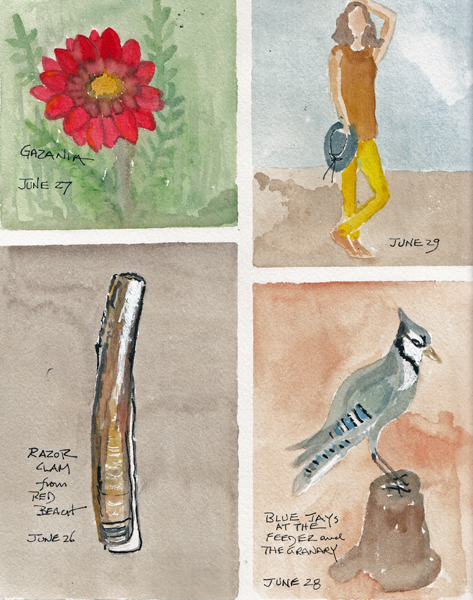 I still need to do a painting for June 30th to finish my book and the challenge, but we arrived home from vacation to a full schedule of grandchildren and it takes me longer to do a direct painting, than with pen, ink, and watercolor washes.