Non-Dominant Hand Drawings: April 3 - 5
I am still working hard to use my non-dominant right hand for drawing. I love William Kentridge's creativity, and when I saw his messy black ink drawings of an espresso pot on the Fairfield Univ. Museum exhibit website this week, I got out my Pentel Pocket Brush Pen. I don't have great control of this brush pen even with my left hand, so I had fun with this drawing! I will use the brush pen again during this period of play.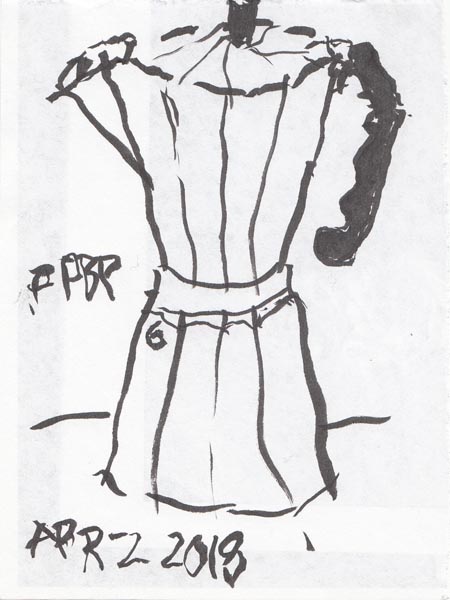 I also have my "non-dominant hand" drawings for the last 3 days, and it really gives me something to look forward to each day as I finish my breakfast. Danny Gregory wrote a book called Art Before Breakfast, but I need several mugs of coffee, and a little writing (now as a 1-2 finger typist) before I am inspired to draw.
April 3rd:
April 4th and 5th:
I positioned my figure model in the position I was in when I tripped going up a step in the subway and fell on my dominant hand. A Book Weight is keeping the model from falling over.
The writing under the figure model says, falling through space on an outstretched arm = Colles Fracture. It is actually a fracture across the distal radius in the forearm.