Non-Dominant Hand Drawings Mar 29
I now have a wonderful sketchbook sent to me by my friend Maureen. She added an outline of a left hand on the cover - my injured wrist - and added words on the spine re: drawings by my non-dominant hand. I'll photograph it and post it here soon. For now I am posting my 3 drawings done yesterday, in my kitchen, after breakfast. I am starting with objects from my environment, and have no idea where it will lead me. Hopefully I'll be out of the apartment more next week.
In the top drawing I was concentrating on shapes, and after making the lines of circles, I decided to add a profile to make it my hair, since it is my main failure as I approach life with a wrist fracture.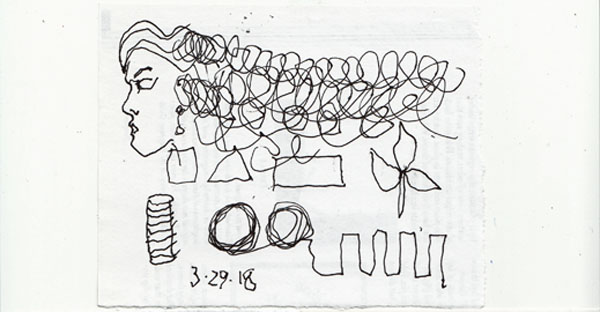 These were all drawn of !/4 size sheets of copy paper because I need low stakes drawing experiences as I begin this project. I'm not ready to draw in my new book yet. Maybe tomorrow....