Two New Books - Happy Days Making Both
Not long after I retired and began to keep a pen-ink-watercolor sketchbook, I began making my own sketchbooks with 140 lb watercolor paper. At first I used commercial bookcloth, and then I realized that fabric I dyed for quilting, could also be used as bookcloth. The red book on the left was made with fabric that was folded and clamped before dying-which is a form of itajime shibori. The pen pocket was made with a small amount of fabric made with the same dyes. The book on the right is called a "Remains of the Day" book, and it is the 8th annual one I made after taking an online class from Mary Ann Moss. I make these with scraps of fabric I've dyed, and random paper from magazines and books as pages.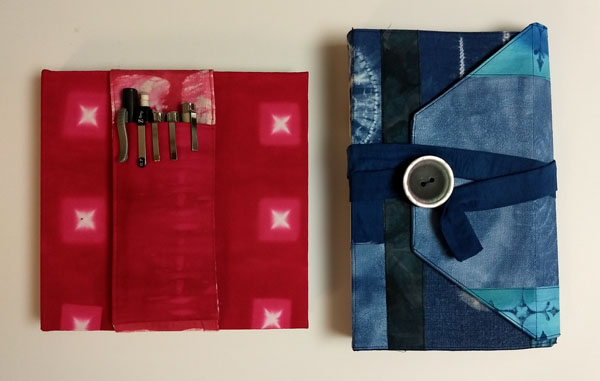 This red book has 6 signatures, each with two folios of watercolor paper, which gives 48 pages. The pen pocket, which is closed inside the front cover with Velcro, makes it very easy to just grab it and go drawing.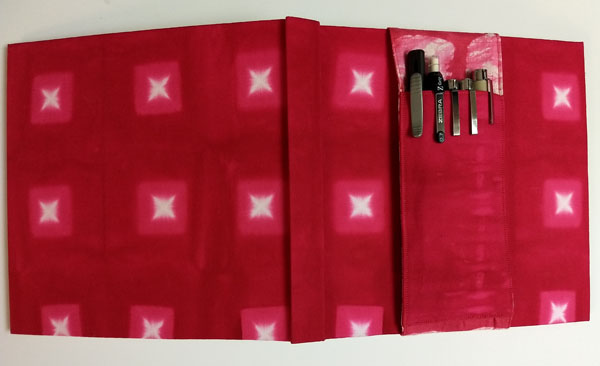 The wraparound cover of this blue book is made by creating a fabric bag, with scraps on one side, and a lining on the other. A piece of poster board is slipped inside and then the end stitched closed. These fabrics are scraps dyed with either procion MX dye or native indigo, and the white areas on the bottom section are actually designed by stitching the designs before dying the fabric with indigo.
It has 2 signatures, each with 11 folios, that are stitched onto the spine with a 5 hole pamphlet stitch. During the year I use it as a scrapbook for all of my art adventures here in NYC. I am recycling paper and I usually cover up most of each page with ephemera, photos, and drawings.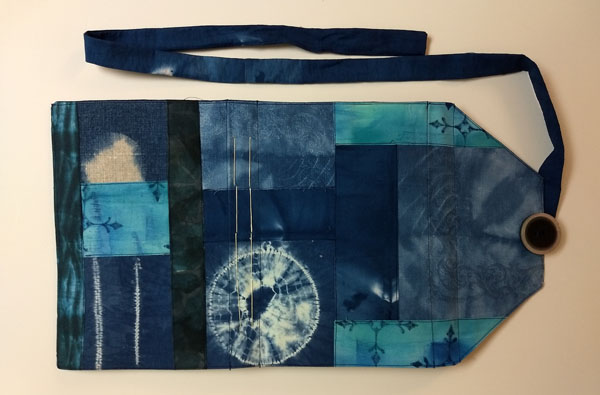 This photo shows the lining and the front of the first signature. I will use this as a title page and add contact information etc in case it gets lost. By the end of the year the pages will also include envelopes, flaps, and overlapping photos.