The End of Christmas Season
Manhattan is a Christmas Wonderland each year, especially 5th Avenue from 42nd Street (Bryant Park) to 59th Street (Bergdorf Goodman). Bergdorf's window decorations are always spectacular, and this year each window represented a cultural institution in NYC.
The American Museum of Natural History window was my favorite. This photo has way too many reflections, but you can see that a model is surrounded by jewel encrusted dinosaurs.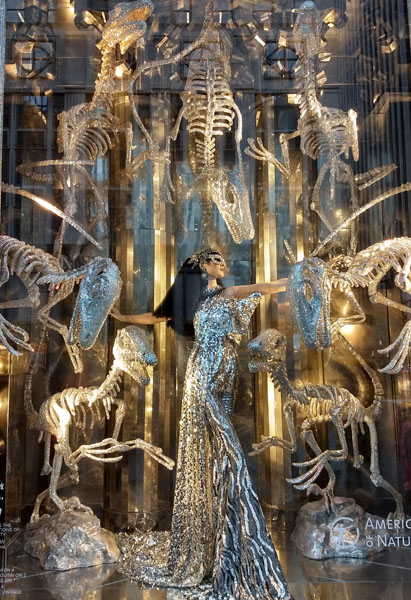 Detail: Every inch of the "sculptures" are "jewel encrusted" on every square millimeter of their body. It was dazzling!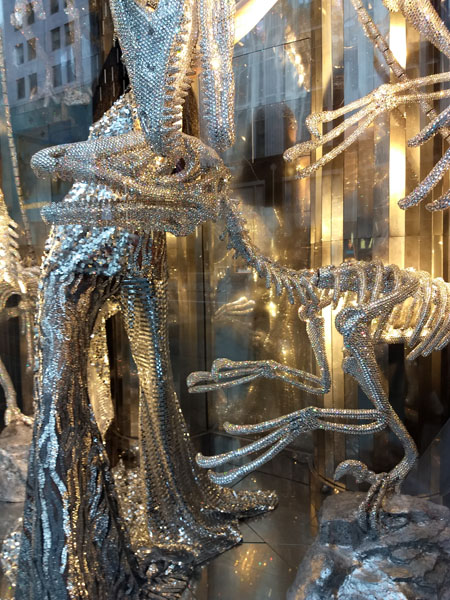 On one of my walks past all of the Bergdorf windows, I stopped to sketch the NY Philharmonic Window, and painted it at home. It was totally red, with neon musical instruments filling the background.
This morning we took down our Christmas tree, with an outside temperature of 10 degrees and a wind chill of -12. The Holiday season is officially over in our apartment as we try to deal with the Artic freeze and almost 8 inches of snow yesterday.
HAPPY NEW YEAR and may your lives in 2018 be filled with good health and wonderful art.