Drawing at the Fall Art Auction Previews
In the Fall and Spring, Sothebys and Christies auction houses hold BIG auctions of Impressionist-Modern-Post-War and Contemporary Art, and attending the previews for the auctions on the days leading up to them is like going to a new museum every 6 months. I went to previews at both places last week and enjoyed the art immensely. I always try to draw something for my sketchbook to remember the day and lately draw more sculpture than drawings or paintings because translating 3D to 2D is better exercise for my brain.
Rodin Maquette of Andrieu D'Andres, one of the now famous Burghers of Callais. This piece had so much emotion that I was immediately drawn to it.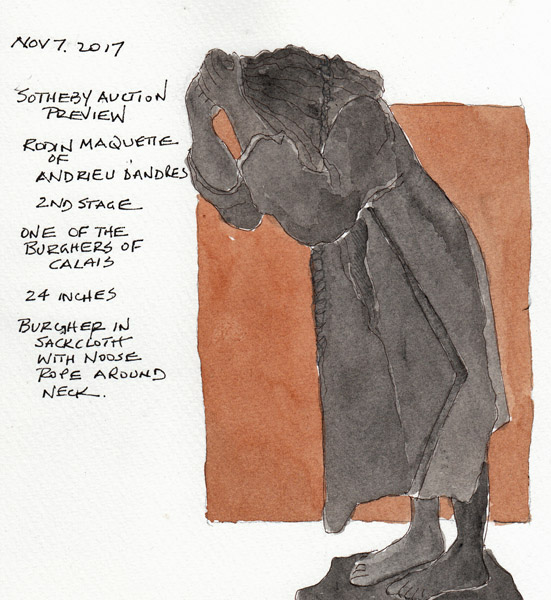 Degas Ballet Dancer - A Composite Drawing: I loved a small Degas dancer sculpture at Christies and sketched it because Degas really "nailed" the position. So many of his other ballet sculptures don't have enough turnout or extension. When I painted the dancer I surrounded her with collages of my quick drawings from a recent working rehearsal of the New York City Ballet. I only can sketch for a few minutes when the dancers are warming up on stage before the lights go down.