Current NYC Exhibitions - Wonderful!
The Metropolitan Museum of Art currently has a Rodin Exhibit - which includes many of the sculptures that are usually seen on the 2nd floor. But the added pieces round out the exhibit, including some small terracotta sculptures that were preliminary to some of his Bronzes. I like sketching sculpture, I love his Fallen Caryatid sculptures, and was mesmerized by the small terracotta piece which is directly across from the large bronze version. Exhibit closes Jan 15th. Note: Entrance sticker from the Cooper-Hewitt was just another museum visit on the same day - not connected.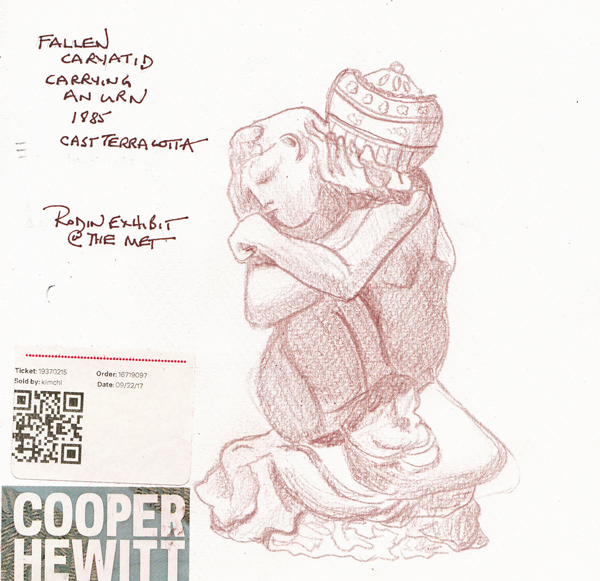 And for all of my quilting friends: War and Pieced is a spectacular exhibit at the Folk Art Museum. These "quilts" were all made by men, British men who served as Soldiers, Sailors, and Tailors. The brochure describes them as "dazzling and complex textiles containing thousands of pieces (many 1" square). They were made during the 19th Century conflicts in Crimea, South Africa, and India - and all of the fabrics are from felted wool used in their uniforms. One of my favorite facts, the military encouraged piecing these textiles in India, where soldiers didn't have much to do except drink! I chose to sketch these embroidered soldiers from a smaller collection of the textiles made with the intarsia method. The oldest textile in the intarsia section was made in 1719. Exhibit closes Jan 7th.