Prime Time at the Museum of Modern Art
Prime Time Tour: With guides Danielle and Jenny (Danielle: An intern for 2016-2017, Jenny -Assistant Curator who worked on plans for this exhibit for 4 years!) . Robert Rauschenberg and Friends is this summer's huge exhibit at MoMA. It covers the entire 4th floor of the museum. Last week I attended gallery talks, each for two hours on Tuesday and Thursday, which were part of the MoMA Prime Time experience. As we sat in front of the art works I quickly realized that I wouldn't be able to sketch any of the selected works, so I sketched our guides Danielle (an intern at MoMA) and Jenny (an assistant curator for the exhibit).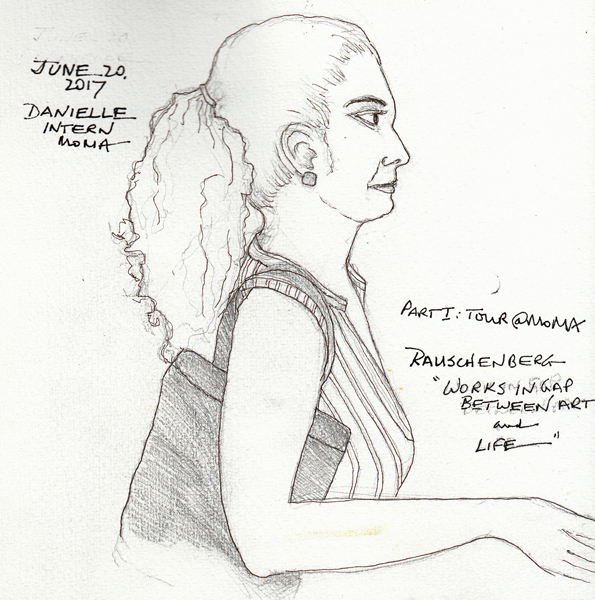 Prime Time is a special program for seniors, which includes both art history and art skills programs. It is so popular that you must be on their mailing list and register quickly when the programs are advertised by email.
I like some of Rauschenberg's work, specifically his silk screen and collage works, but I knew almost nothing about him. What I learned was that he was most interested in (1) exploring techniques in art, pushing them in new directions and (2) establishing lots of collaborations for his art, including other artists, writers, dancers, composers, and even engineers. This is a link to the exhibit, and there are some good short videos.
https://www.moma.org/calendar/exhibitions/3634?locale=en