Making Monotypes at the Museum of Modern Art (MoMA)
There are 120 monotypes in the MoMA exhibit Edgar Degas: A Strange New Beauty.
On April 26th MoMA offered a drop-in session for museum visitors to make monotypes. Education staff from MoMA and staff from EFA Blackburn Studio set up a mini-printing shop on the second floor of the Museum, and we were able to sign in and then spend 75 minutes making up to 3 prints.
Here is a 4 minute video about Monotypes, as an introduction.
https://www.youtube.com/watch?list=PLfYVzk0sNiGEYF87Bj0us98NVd-h6aOvK&v=DC8L2O7I0wk
We each had a palatte for the ink, a brayer to coat a plexiglass plate, and a variety of simples tools to remove or add ink to the plate. This was my first experience making an ink monotype, although I've made some with thick dye on fabric. The methods are not very similar.
We made our drawings in the ink, or with the ink, on the plate and then took our plate to the Staff who soaked the paper in water and put our plate and paper through the press.
I took my sketchbook with me because I had sketches of some dancers from two New York City Ballet rehearsals I watched (drawn before it was too dark in the theater). These were my inspiration for prints 1 and 2. With the remaining few minutes I sketched my imaginary friend Axel for print #3. The paper is 11 X 15" and the prints are 8 X 10".
Print 1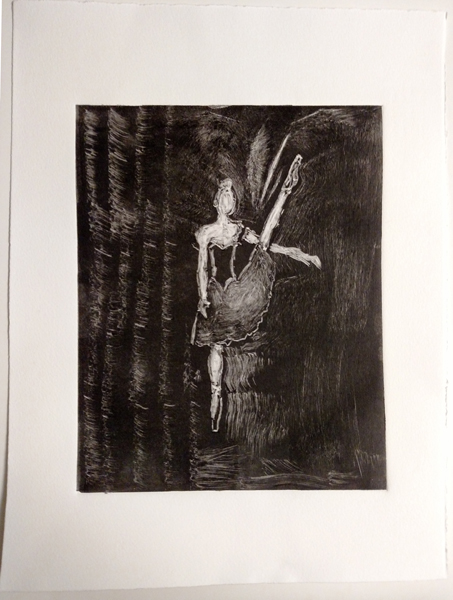 Print 2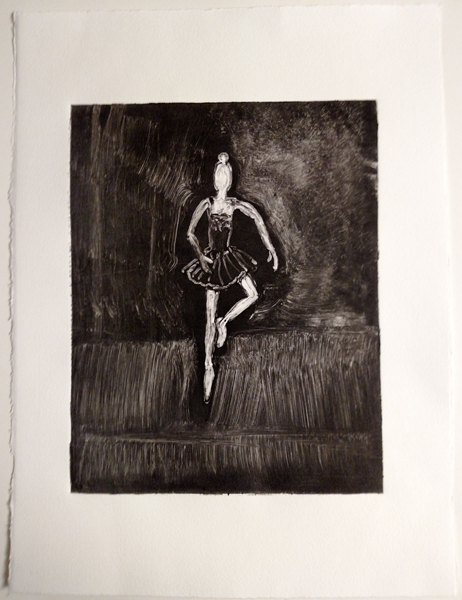 Print 3