Wonderful Art in NYC Week
Art on Paper Art Show: Some weeks there are major Art Shows all over the City. Last weekend we chose to go to the Art on Paper show because of the number of drawings and watercolor paintings they exhibit. During the show, Laurence Villieres sat on the floor and built this giant gorilla from pieces of cardboard she collects from the streets of Montreal. Impressive!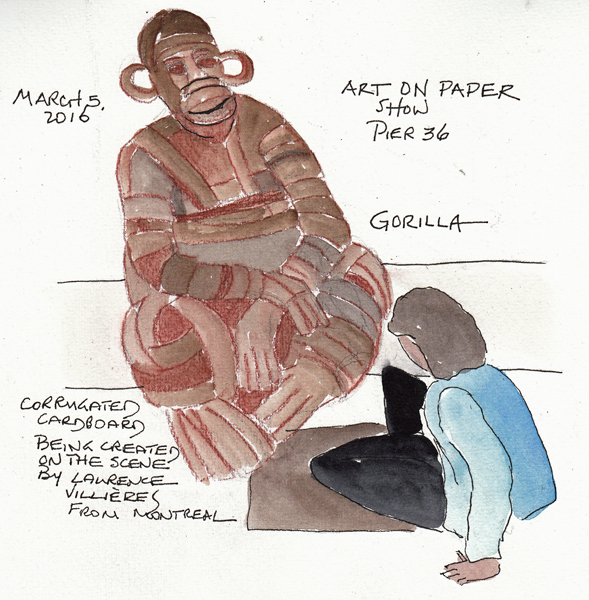 Sotheby's Auction Preview - Modern and Contemporary South Asia Art: My friend Pat and I love this Sotheby's Auction preview which is part of NYC art Asia Week. While Pat was copying a Matisse-like painting on her iPad, I sketched two of my favorite figure drawings - adding paint later.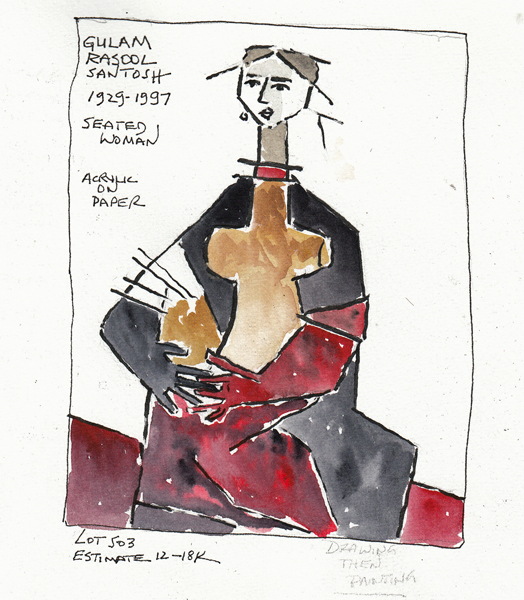 After lunch we went to member previews at the new Met Breuer and spent several hours viewing their opening exhibit -Unfinished: Thoughts Left Visible. The paintings and drawings selected included work as early as Titian, and as late as Pop Artist Roy Lichtenstein. I especially loved seeing the many paintings that still had their underpaintings and drawings visible, with nearly complete oil painting on the rest of the surface. The amount of information on each identifying card was both a wonderful extra, but also a problem in an exhibit that will be so crowded after the official opening.
There was live music in the lobby gallery all day and I couldn't resist standing in the crowded space listening to jazz and drawing the bass player right before I left.