Cooper Hewitt, the Smithsonian Design Museum in NYC
On Friday my friend Eunice and I went to the Smithsonian Cooper Hewitt Design Museum - my first visit since the major renovation. We loved "Beautiful," the Triennial Design Exhibit. There are many types of articles: jewelry, clothing, furniture, textiles, books, ceramics, wallpaper, drawings, and calligraphy to name some. What makes the visit even more enjoyable are the number of ways you can interact with the designs. When you enter you are given a wand - with a stylus at one end and a scanner at the other. The scanner allows you to upload information and photos of each item in the exhibit to a personal account by touching an icon on the exhibit card. With a unique password on your ticket, you will then be able to open "your virtual tour" when you reach home. The stylus lets you create designs on many flat computer screen tables that are scattered throughout the exhibits.
I loved a wallpaper design from the exhibit which was created by "Studio Job" a company founded by Nynke Tynagel (Amsterdam) and Job Smeets (Brussels). Here are 3 of their wallpapers strips - each 29 feet without repeats!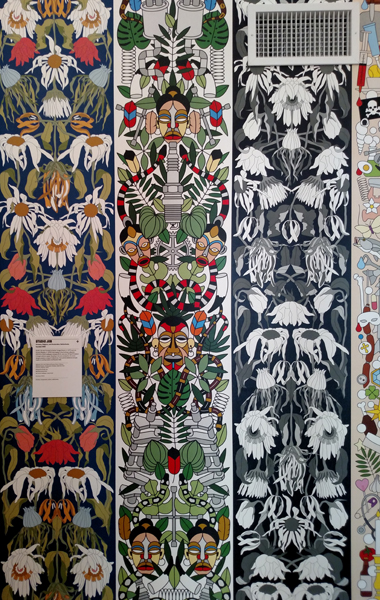 This image was drawn from my favorite - the strip in the middle. The background was a wet-in-wet watercolor page and the face was drawn on top of it and then painted after it dried.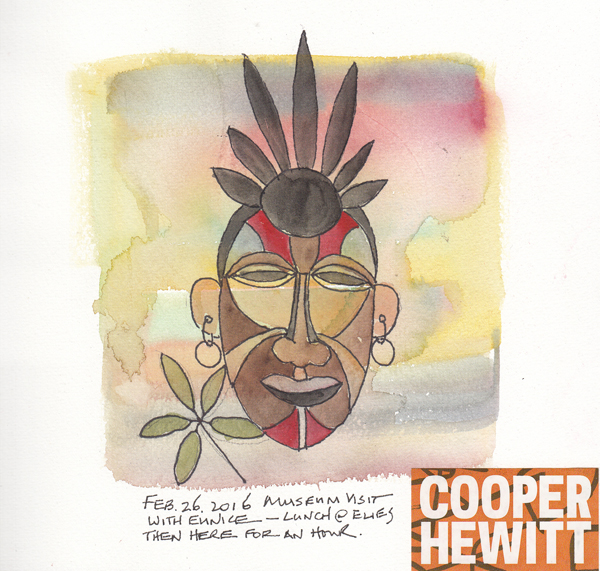 There are several other current exhibits at the museum, and I want to return soon to really carefully look at the Pixar exhibit and the Design Lab.