Art Wednesdays: December 23rd and 30th
Benedicte, Pat and I celebrated the holidays with two Art Wednesdays:
The Frick Collection has an amazing exhibit of drawings by Andrea Del Sarto (1486-1530). I love early master drawings and his drawings, mostly in red chalk, were beautiful! All of the drawings are on the Frick website:
http://www.frick.org/exhibitions/del_sarto/introduction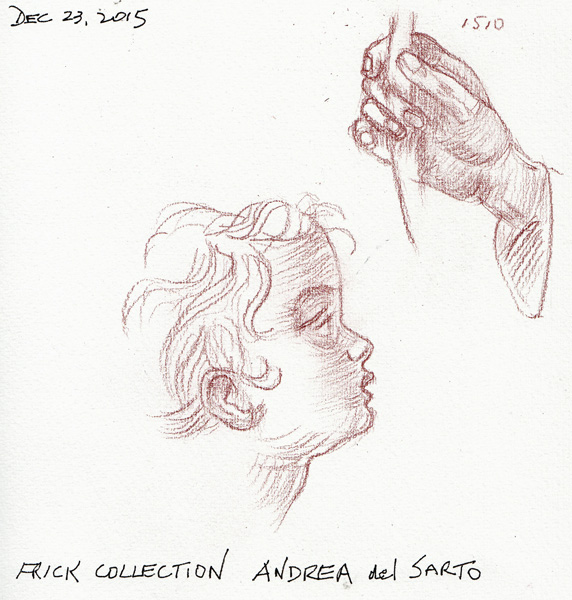 After lunch we continued at the American Folk Art Museum exhibit: Art Brut in America:
Art Brut is defined by Jean Dubuffet as follows: "Works produced by people uncontaminated by artistic culture,where mimicry plays little or no part, contrary to the activities of intellectuals. These creators derive everything's subjects, choice of materials, means of transposition, rhythms, styles of writing- from their own reserves. We witness the artistic process in all its purity, raw, reinvented on all its levels by their maker."
Most of the art was collected by Jean Dubuffet and was made by patients in Psychiatric hospitals in Europe. There were many pieces that I wanted to draw, to remember. While we were there we were treated to a Jazz concert for an hour (every Wed from 2-3), and all three of us even sketched the bass player.
On Dec 30 Pat and I immersed ourselves in the Metropolitan Museum of Art current exhibits - with a brief break for lunch in the museum cafeteria. These drawing were from my three favorite exhibits.
Annual Christmas Tree and Neopolitan Baroque Creche: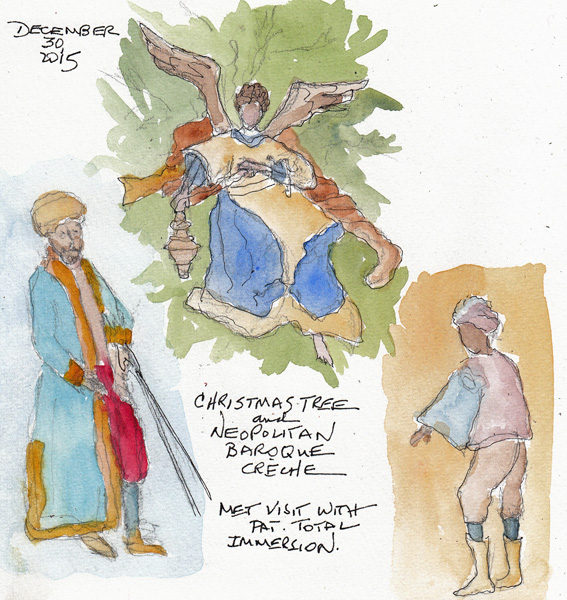 Jacqueline de Ribes: The Art of Style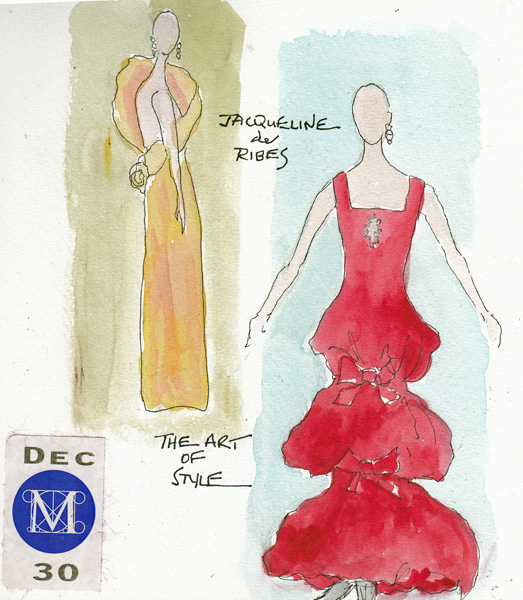 Ancient Egypt Transformed: The Middle Kingdom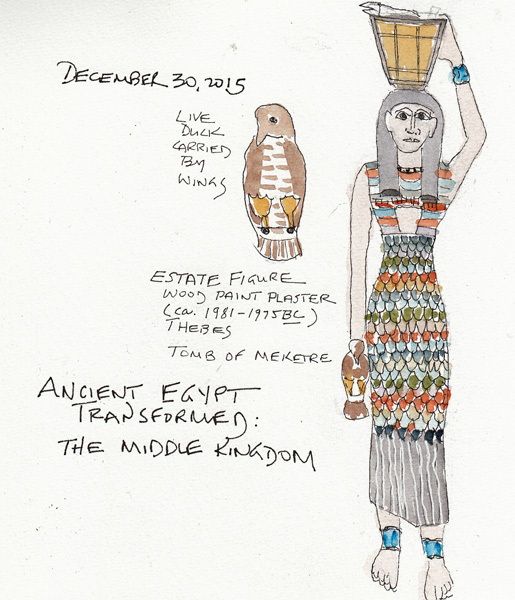 Yesterday was the 10th anniversary of my blog and this week I will post my Goals for art on paper and fabric in 2016. I don't post all of my art and textile projects, but I remain happy that I have a blog and can share so many experiences with friends from around the world.