Watercolor Paintings Week of September 21st
When I was in the gardens in Wagner Park last week, I tried to paint loosely and without a preliminary simple pencil drawing. I found it very difficult to paint the yellow flowers, and at the end I sketched one with my pen and then added watercolor just to remember the actual shape and color. I definitely need to work on these using only a brush and paint.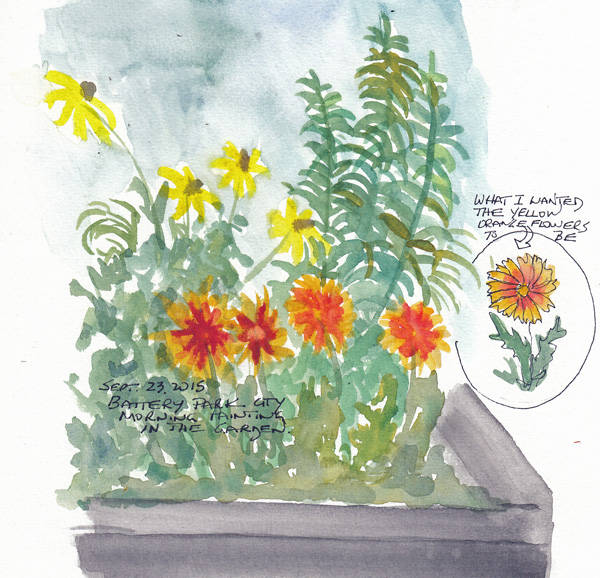 My homework after my FIT class was to paint an organic still life using 3 colors: Payne's Gray, a yellow (New Gamboge), and a red (Scarlet Lake). I lightly blocked out the plant and sculpture and then tried to paint it loosely and with different mixtures to vary the greens.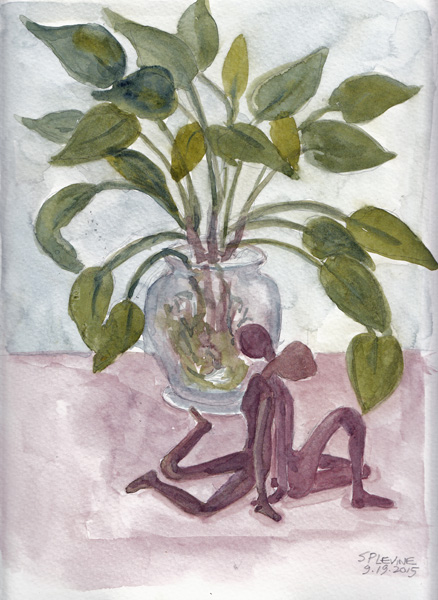 In class last week we had 4 big animal skulls to draw, all placed on dark backgrounds. My problems were many fold:
1. I am so used to working small that my preliminary drawings were too small regardless of where I started drawing.
2. I found it very difficult to simplify the skulls. They are so complicated structurally, and I wanted to capture the different depths, angles, and holes. Without those structural details they were just big blobs.
The skull of the right, repeated slightly bigger:
I'm hoping that I can work toward bigger drawings, and much looser painting. This week our homework is to draw "a flower" and we examined many paintings of Georgia O'Keefe for inspiration. I have a few beautiful, fresh sunflowers that I bought today, just waiting for me to paint one!