Sketchbook Skool Homework for Fabio Consoli
Fabio Consoli, our 3rd teacher for Sketchbook Skool Semester 4, wanted us to enjoy "Child's Play" by sharing a page in our sketchbook with a child, allowing them to make a drawing which we would then use as inspiration to extend and complete the composition. My 5 year old Grandson Zach did two drawings with markers in my sketchbook, but filled up the complete page, and I wasn't sure how I was going to extend the images and story.
The next day he only had time to do a pen drawing on an index card while we were at lunch, and I chose to use that image as a collage and to allow it to inspire my painting on a page in my sketchbook. I'm currently trying to improve my drawings from my imagination, so this was a double challenge for me. Zach's drawing is the blue man on the right.
I decided that I liked my drawing of the green man and wanted to introduce his girlfriend. So I sketched them both in pen for my 100day Drawing From Imagination project.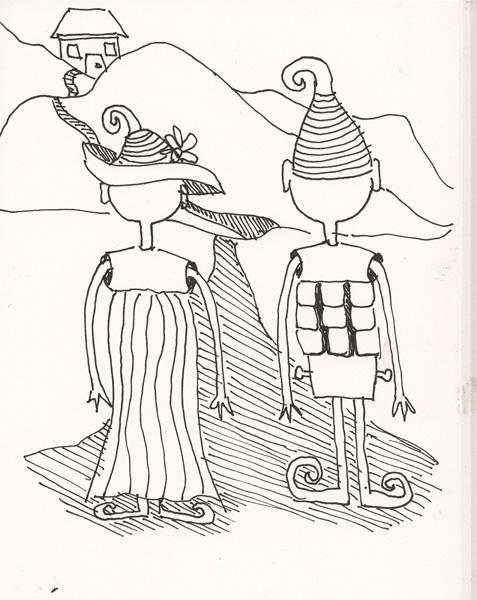 Here are Zach's first two drawings - done with Tombow markers on a full sketchbook page - The Monster Man and Secret Grouch: