Plains Indians: Artists of Earth and Sky
This exhibit just opened at the Metropolitan Museum of New York and it is spectacular. I went to the Member Previews last week, excited by the postcard that arrived about a month ago. Pictographs are among my favorite images and I didn't know what to expect, but was thrilled to find several tanned leather hides and clothing with ink and pigment drawings.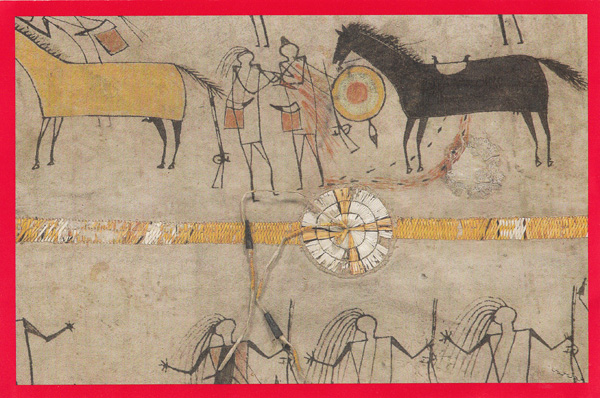 This is called the Grand Robe and I took a photo of it from the Exhibit Catalogue because no photos are allowed in the exhibit. The catalogue says that there were hundreds of these robes made and only 5 remain. Three are in this exhibit, including this one on loan from the Musee de Quai Branley in Paris. There are 60 figures on this robe, depicting 14 battles - and I sketched a few of my favorites.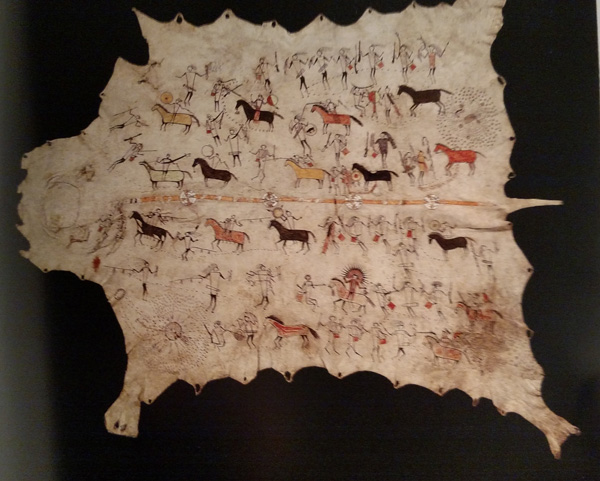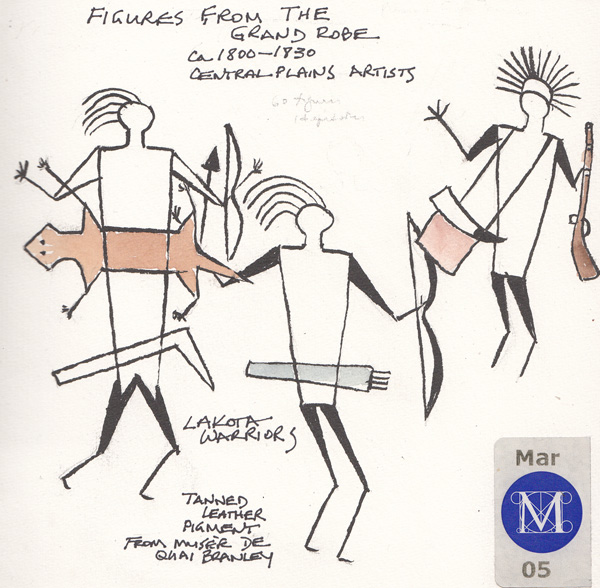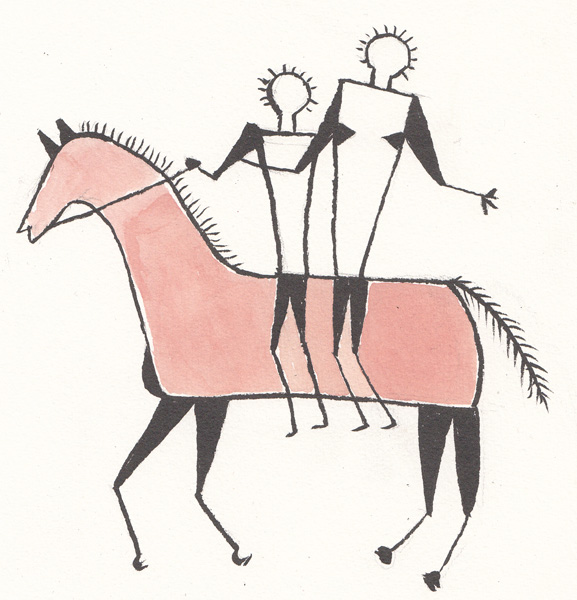 I also attended a "Conversation with a Paper Conservator", who worked on the Maffet Ledger Journal over 18 months before, during, and after it traveled to Paris and Kansas City where this exhibit began. George West Maffet distributed some ledgers among the Northern and Southern Cheyenne tribe in the mid-1800s and this ledger contains narrative stories in drawings by 22 different artists. Most of the drawings are scenes from battles against the Cavalry. Not only was I interested in the paper conservation information, but it was so interesting to hear how they poured over the drawings to try to separate the artists and translate the images.
Here is one of the paintings in the ledger. In order for indian boys to establish their bravery, they had to coup a soldier, which meant touching them with their sword, or bow and arrow, and then escaping without being harmed. The conservator said that they did lots of research to understand the implications of many of the drawings in the ledger.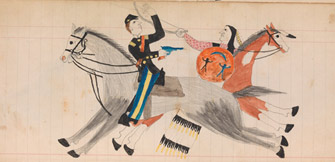 This is a link for the Maffat Ledger on the Museum Website.
http://www.metmuseum.org/exhibitions/view?exhibitionId=%7b254A181E-CA25-4BC9-B15A-A167688D711B%7d&oid=310365&pkgids=294&pg=1&rpp=20&pos=1&ft=*
There are 23 pages pictured at this link.
All the while she was speaking, I wondered if any of our sketchbooks and journals would survive and be analyzed for information about the times in which we lived.
This is a link to the video of current Indian Artists and how their work evolved.
http://www.metmuseum.org/exhibitions/listings/2015/plains-indians-artists-of-earth-and-sky/media