Second Exercise in One Point Perspective
We spent one more week practicing one point perspective and I think I'm finally gaining practical experience and some understanding of how to use these techniques. Last week we sketched long halls, but the same technique would work for roads and train tracks disappearing in the distance. The eyeline or horizon is a line at your eye level, and the vanishing point is directly in front of you on the eyeline. Then your drawing lines all originate from the vanishing point and become your hallway etc.
This week I stayed in the classroom and sketched a table that was directly in front of me. One point perspective is used with objects that have flat planes and are directly in front of you. If you can see two sides of a box or table, then you need to use drawing techniques for two-point perspective. As before, the eyeline is at your eye level and the vanishing point is again right in front of you. Same rules, but a new venue.
Here is my drawing done in class. My vanishing point is the white dot on the arm of the black sweater. You can start at the vanishing point and extend a line to both sides of the table, each side of the shelves, and the front of the desks on the right.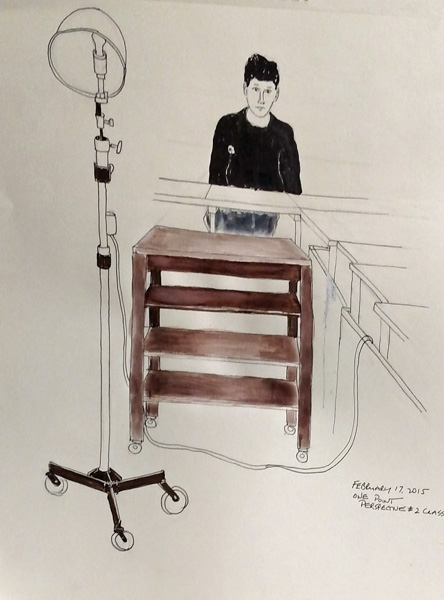 After drawing the table, I struggled while drawing the student desks along the side of the brown table. But again, the lines in the front of these tables are also just lines from my vanishing point. Then I got bored and added the lamp in the room and the student who came in and sat across from me.
I also sketched another table and one of our classroom chairs in my daily sketchbook to have a record of this class. VP marks my vanishing point and I left my pencil lines from it to the table as a reminder. Our professor confiscates all rulers - he says that if you don't practice drawing straight lines, you will never be able to draw them. Fortunately, I've never relied on a ruler for any drawings.