MoMA and Matisse - Part 2
I've been back to MoMA and the Matisse Programs two more times - attending two free workshops set up in the Education Building Studio area. Elaine Reichek, a New York artist took us through the exhibit briefly, highlighting Matisse's designs for scarves and a tapestry, and then provided us with materials and inspiration to make fabric collages of our own. I embroidered a felt collage shape that I sketched from Matisse's 1001 Nights (in the exhibit) and then layered the felt collage onto cotton and linen with machine stitching when I got home. I even fringed the linen and stitched a few pomegranates as Matisse might have done.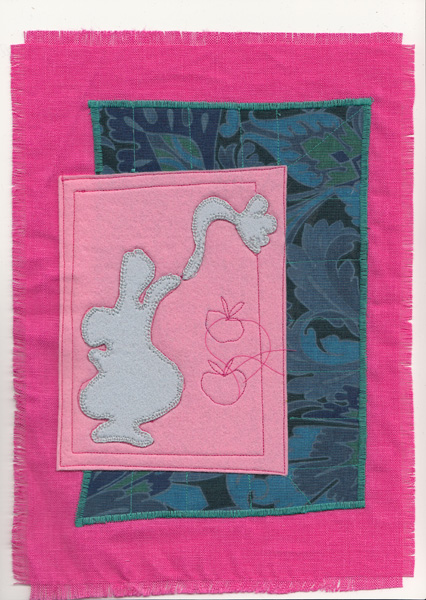 This week I attended a handmade paper workshop sponsored by the Matisse Education staff and presented by Dieu Donne, a NYC-based Studio. We each made 1-2 pieces of cotton paper and added designs with stencils and pigment, or paper/fabric collage, during the paper making process. I made one piece and used colored fabrics and pieces of a dictionary page for my collage.
The ripples around the edge are expected when there are materials that have different rates of drying. The grayish color is due to the scanning process - they are actually a lovely edge feature.
I was working in the Matisse "Beyond the Cut-Outs" Open Studio after the workshop, just as several MoMA studio staff where adding more fabric pieces to one of the supply bins for us to use. I was mesmerized by 2 pieces of taffeta and immediately used them as the background for a paper/fabric collage I was making. The sketches were done previously by me and I just resized them to use for the collage on the copier that is available in the Open Studio. I machine stitched the layers together at home to finish them.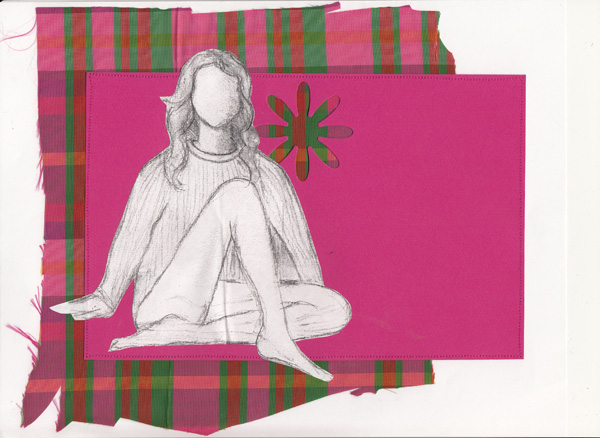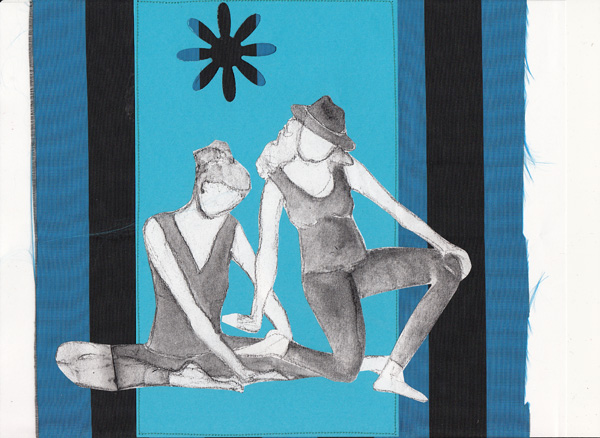 Two years ago MoMA had an Open Studio in conjunction with two large Print Exhibits and I was there 8 times over 2 months. I find that it is pure play - the materials are not mine, there are many supplies that are inspiring, and color copies of our projects are added to several large boards, in rotation. I am also working on a series of dancer collages that I posted in Matisse- part 1. This week I cut up copies of each of them and used them to make another iteration. What next? Who knows what will inspire me next week.