Sketchbook Skool Semester 3 - Danny Gregory
Danny Gregory was the last artist in the 6 week Sketchbook Skool Semester 3 "Storytelling" online course. He moved from LA to NYC immediately before, driving the entire way. So his sketchbook tours and demonstrations were all from his cross-country journey. His parting gift to us was a full PDF copy of his travel journal!
Our homework was to take a trip, even around our home or neighborhood, and to document it in pictures and words. My journey was one day in my life - and I have 3 Sketchbook pages for the "trip."
I left my apartment at 8AM, and took a bus and subway to my ballet class. After ballet, I did a few errands and then took the Subway to the NYC Garment District to meet my daughter who needed advice on supplies to make for her childrens' teachers' holiday presents. We had lunch on the Upper Eastside and then I returned home - leaving several hours later to go to the Theater District in midtown for a play reading. Here are the pages - the writing is probably unintelligible!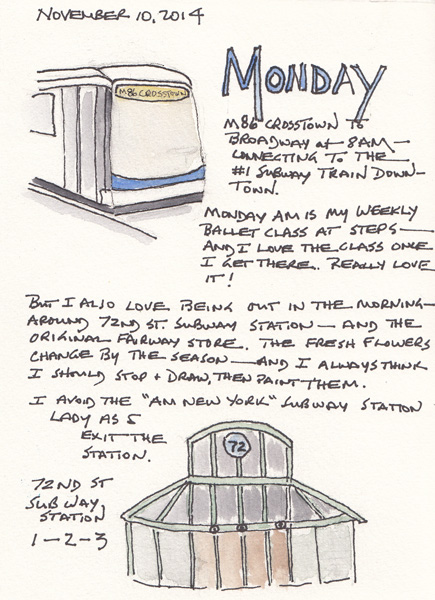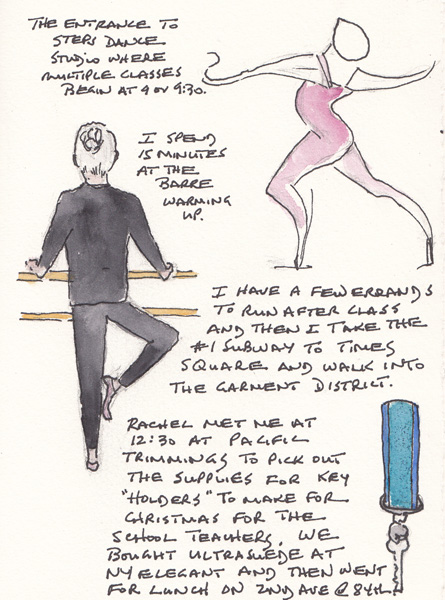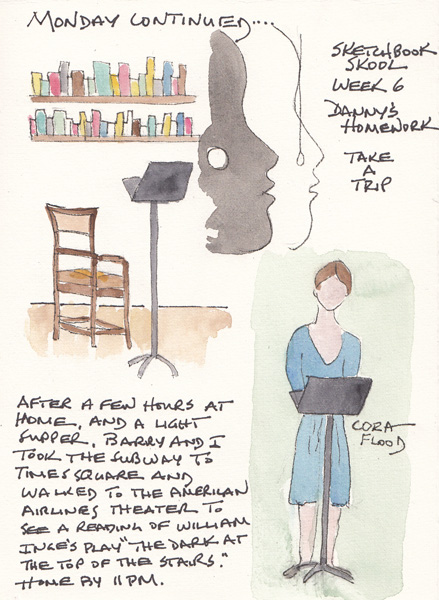 The part of Cora Flood was played by Annie Parisi who I really love!
I took Sketchbook Skool Semesters 2 and now 3. Even though I belong to Everyday Matters, and am familiar with many of the teachers, I find the format of the course incredibly interesting. This semester I still need to work on homework from my imagination by Mattias Adolphson, A poster or book cover from Jean-Christophe Defline, and drawing bodies in motion like Veronica Lawlor. These are wonderful challenges for me and should keep me busy until Semester 4. Can't wait for the announcement of the next theme and lineup of teachers.