A Wonderful Day at MoMA
I had an amazing day at The Museum of Modern Art last Friday. My art friends were busy, and I hadn't seen the Toulouse-Lautrec or Jasper Johns exhibits, so I packed a lunch and went at 9:30 when these exhibits opened for Members. The Toulouse-Lautrec exhibit was posters, and many other forms of lithographs from the MoMA collection and I was mesmerized by the lines. I carefully looked at, and photographed most pieces, and then drew one detail from an early poster because I loved it! Here is my Englishman at the Moulin Rouge, 1892 - 3 years after the Moulin Rouge opened in Paris. I sketched with graphite and decided to leave it that way.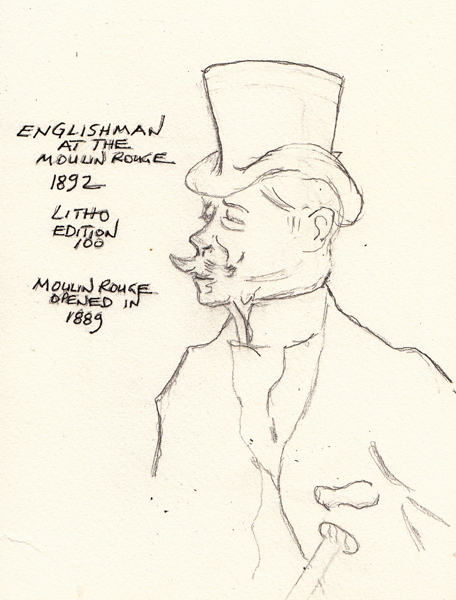 The Jasper Johns exhibit was a collection of drawings, prints, and oil paintings from the last 18 months. Since we saw the exhibit of his work and learned about his printmaker John Lund, I can't get enough information about him. I'm not someone who easily works in a series. And he experiments and cuts printing plates, and reworks much of his art. This series began with a tattered and paint spattered photo of Lucien Freud, sitting on a bed with his head in his hands. Johns drew the images several times in different media, manipulated the image by duplication, and then made two series of prints. I thought the prints were too dark, but couldn't learn enough about his process.
They also had one of his number series and I love the shape of his numbers, so I made a grid with 9 spaces and made quick sketches only to find I was one box short because I forgot about the zero. So here is my sketchbook page - to remember the experiences in that gallery. The nine is just a cut-out that overlays the page and can be lifted.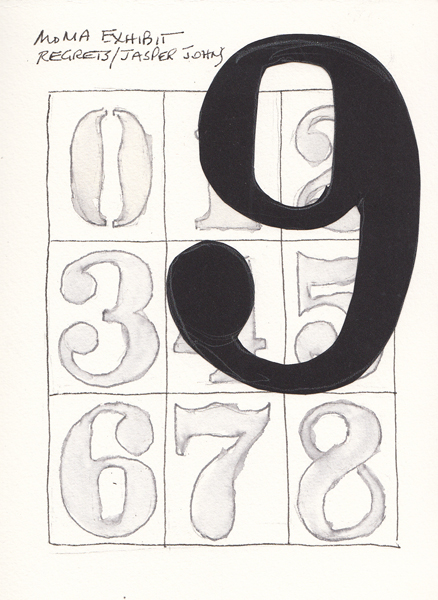 By then it was lunchtime, so I took my lunch and bought coffee at the Sculpture Garden Café - and enjoyed the beautiful weather and amazing art. We are going back to Paris for vacation in October and I couldn't resist painting this vintage sculpture from the Paris Metro.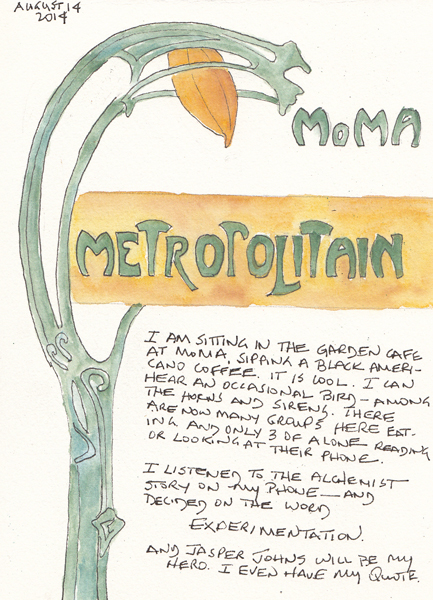 On Saturday I worked on a challenge from my friend Teri while we were having coffee at our favorite café in Central Park. Teri sent us digital images of small details from famous paintings - that she received from one of her art groups. Pat and Benedicte did the first 1-2, but this was my first. If you look closely you can see the original image that I printed out and collaged on the upper left. And then I just played with ideas and completed the painting with my composition.
My Art History consultant Bunny says that it was probably painted by a 19th C Orientalist, but I can't find it online. So I must wait for Teri to return from a Dude ranch out west to learn her identity. Any ideas??