Inspired by Pinterest - for Documented Life
Before I knew how many projects I was going to have this winter, I signed up for a year-long series of prompts called Documented Life. I'm keeping track of the prompts, and will eventually catch up. I actually did week 7 this week (they are on week 10) - in which I was supposed to look at Pinterest for inspiration for a journal page.
Full participants used Moleskine planners to make their journals. I made folios of sketchbook paper and will fill them as signatures and then bind them into one book at the end of the year http://www.paperandthreads.com/2014/01/beginning_of_a_new_year.php.
I wanted to document my continual attendance at ballet class - 28 weeks since I restarted dance during the summer! And I found a lovely photograph by Philip Rood that inspired my watercolor.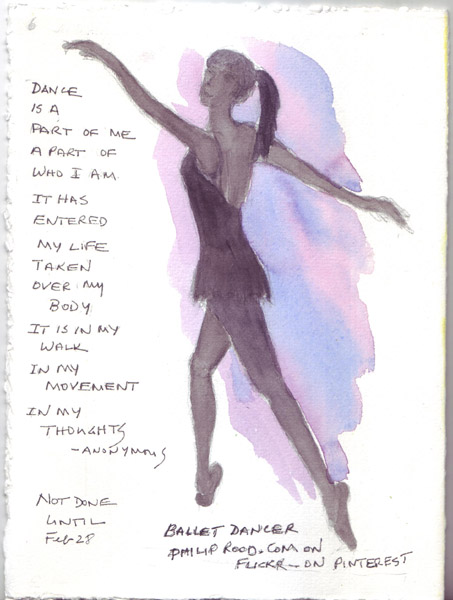 This photo "pin" was attributed to Philip Rood on Flickr. The quote was on another pin with no attribution.