Studying Under the Masters - Botticelli 2
This is the end of "Botticelli week" with apprentice/artist Jenny Lee Wentworth. I had to reflect back on what I learned from painting a Botticelli woman from a Rennaisance fresco and it is now time to use Botticelli's techniques in my own composition.
I wanted to do a portrait and to select an image that showed serenity, much like Botticelli's women, and I finally selected a candid photo of my 9 year old grand daughter Sydney for my inspiration. I have sketched her before and can never achieve a true likeness, but her photo was for inspiration - not for a portrait of her.
I used watercolor and titanium white gouache for the background, like I did with my copy of Botticelli's "Grace" in the last blog post. The rest of the painting was done with Winsor Newton watercolors. Botticelli's painting of hair is very distinctive and and I used a partial layer of yellow ochre, then a mixture of neutral tint and Van Dyke brown, and then Van Dyke Brown alone to add a few more golden highlights. The skin is a palette mixture of yellow ochre, permanent alizarin crimson, with a dab of Payne's Gray.
I work with 3 triads on my watercolor palette - a warm red, blue, yellow, a cool red, blue, yellow, and a "Velasquez triad" - of yellow ochre, burnt sienna, and Payne's gray. And over the years I added just a few convenience colors like the Van Dyke brown and neutral tint. These 9 primaries really allow me to mix any color I want right on my palette, which I love to do!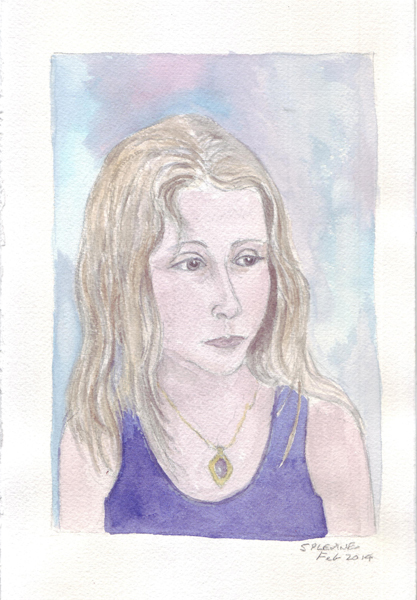 Here is the photo of Sydney who was 8 years old when it was taken in August 2013. I used it for inspiration for my Botticelli woman and although I tried, I didn't really capture her in a realistic portrait. I get slightly closer over time, but not close enough.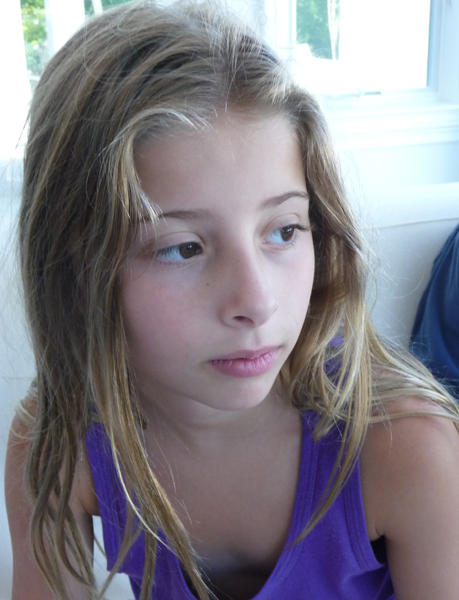 This morning I started to watch the videos for Danielle Donaldson's Week 5 studying Georgia O'Keeffe.