Studying Under the Masters - My New Class
Today was the first day of the first week of the Jeanne Oliver Course that I am taking online.. <jeanneoliver.ning.com> WOW!
Jeanne selected Henri Matisse as her Artist and I've already watched over 2 hours of wonderful videos and haven't yet watched more than half of them.
Each week, for 9 weeks, a different artist selected by Jeanne will present "her Master" through videos and exercises. We will learn more about the artist, analyze technique, and then paint in the style of their artist. The goal of the class is to study individual artists so completely and to practice their specific techniques enough that we can use this information to develop our own voice and style.
Matisse is one of my favorite artists and I have sketched from his paintings and drawings in museum exhibits many times (22 times according to my sketchbook index), so listening to her and seeing how she is studying him in depth is fascinating.
Here is the last Matisse painting entry in my sketchbooks - Matisse's oil painting of Lady in Blue, 1937.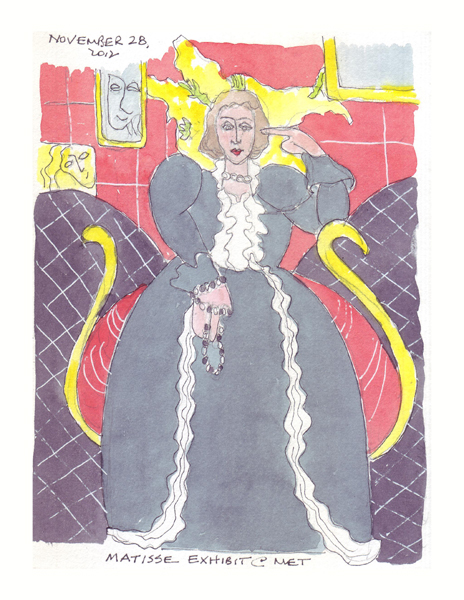 Jeanne is creating a pattern book for herself from Matisse's paintings in the last video I viewed today. I wanted to have at least one sketchbook page to honor the beginning of this wonderful 9 week class. So I went back to images that I made at a 2005 Matisse Exhibit at the Metropolitan Museum of Art.
Matisse: The Fabric of Dreams His Art and His Textiles June 23–September 25, 2005
"This is the first exhibition to explore Henri Matisse's (1869–1954) lifelong fascination with textiles and its profound impact on his art. It features forty-five painted works and thirty-one drawings and prints displayed alongside examples from Matisse's personal collection of fabrics, costumes, and carpets. The exhibition marks the first public showing of Matisse's textile collection—referred to by the artist as his "working library"—which has been packed away in family trunks since Matisse's death in 1954."
He used patterns from the first piece of fabric in his collection in many of his paintings (a blue and white toile that he called "Toile de Jouy").
And here a color painting of my 2005 pen and ink sketch, some patterns from the Indigo and white toile: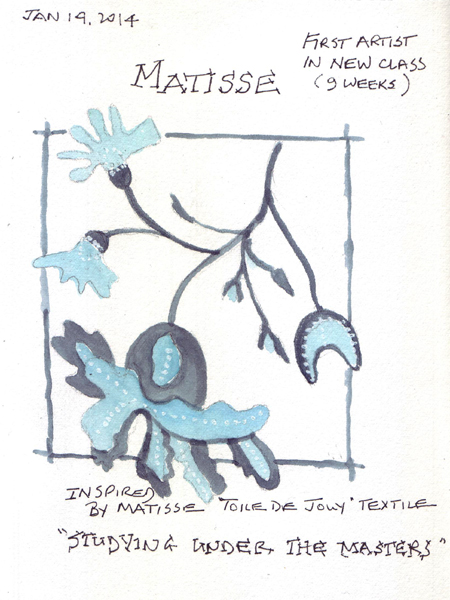 And lastly, here is a painting in which this textile pattern is a major part of the background.
It is probably not too late to sign up for this online class for anyone that is interested.