Two More Figure Drawing Classes at FIT
Each class begins with 4 Five Minute poses of the model just for us to warm up. Now we spend the rest of the 3 hours with one long pose - with periodic breaks for the model during which the Professor shows us prints to demonstrate specific techniques as done by master artists.
Last week our assignment in class was to draw any part or all of the model using black and white charcoal with sanguine conte - red, black, and white. It wasn't until I saw some of the prints from artists like Ruebens that I realized how subtly these 3 colors were used. I chose to do a portrait, from the waist up, and to use the textile behind the model to add red.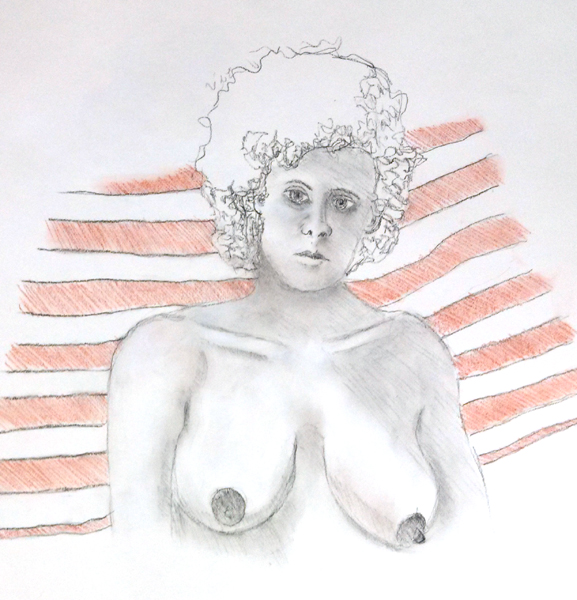 Last night our Professor began the class by showing us many Matisse drawings, in order to illustrate how figures can be placed in specific settings - using Matisse's love of textiles and patterns. He then draped the background for our model with 3 different textiles and placed her on a patterned pillow.
We did our 5 minute warm up drawings and then spent the rest of the evening sketching her in one pose.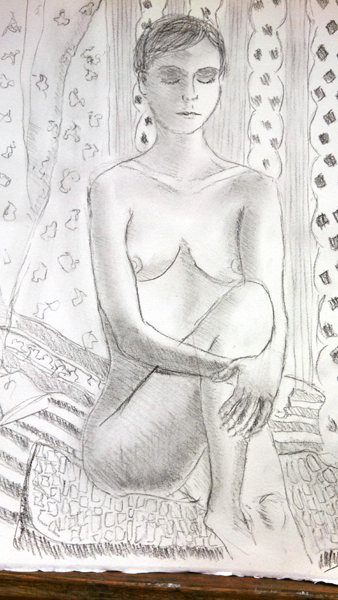 Next week we are going to add color to our figure drawings, using nu-pastels. I am now finally using charcoal instead of 9B graphite pencils for drawing. The General Ex-soft pencils don't freak me out. And I am getting more used to drawing and shading with the charcoal and conte. So progress is being made.