SEWN Sample Journal
I'm posting this set of journal photos to share with other class members in Mary Ann Moss' SEWN Class.
I LOVE to make books - and this year challenged myself to make one new book structure every month. It is great fun and I'm learning lots. But making this book for the SEWN class was as much fun as any that I made since my last Remains of the Day book in December 2012.
I cut 2" squares of paste paper that I made this Spring - and two montypes from a Gelli Arts plate - and made a cover with a back flap. The paper squares were spot-glued to 140 lb watercolor paper with a UHU glue stick and then machine stitched in place. I added a spine strip to reinforce that fold, and a folded decorative strip for the edge of the flap.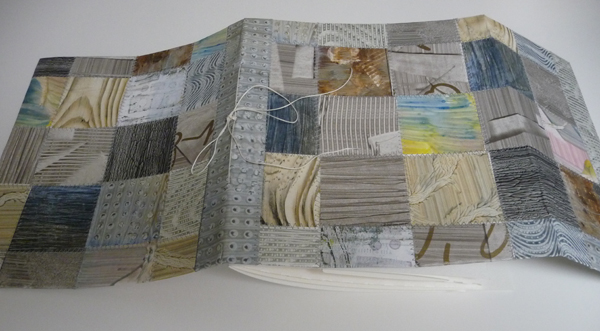 Seven folios of different sizes of watercolor paper were stitched in with a pamphlet stitch- and soon I will start painting patterns in my sample book as part of the Class 1 Homework.