Art Day at the Morgan Library - Surrealist Drawings + Degas Miss Lulu
Benedicte, Pat and I went to the Surrealist Drawing Exhibit at the Morgan Library and Museum right before it closed. They had an amazingly thorough presentation - the artists that played with surrealism and the techniques that were used.
I arrived early and sketched a woman reading while waiting for the doors to open. In the exhibit I quickly sketched a Picasso woman who was in one corner of his drawing and a Miro square that I wanted to remember for my "visual language project." The exhibit stretched over two big galleries - lots to see and read without doing more drawing.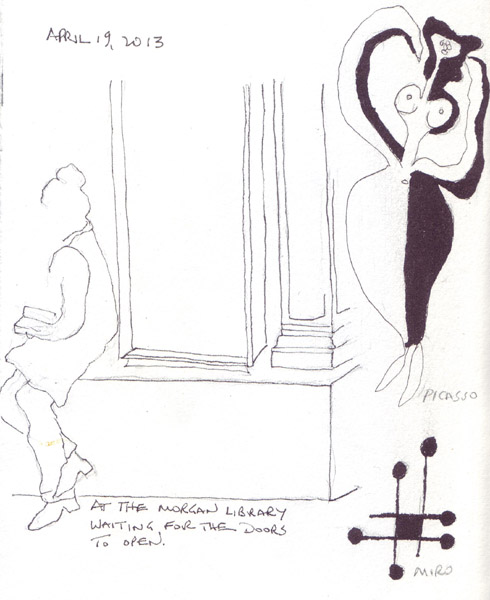 Degas and his painting of Miss La La at the Circus was in the upstairs gallery. There was information about the circus in Paris, preliminary drawings and paintings, the big painting and works by other artists who also painted the circus. I loved the shape of a clown in a lithograph by Henry Gabriel Ibels and sketched a portion of the print. But then I had to go find Pat and Benedicte, who still hadn't come upstairs, because I wanted to leave time to see the American Watercolor Society Show at Salmagundi. Both of these exhibits closed Sunday.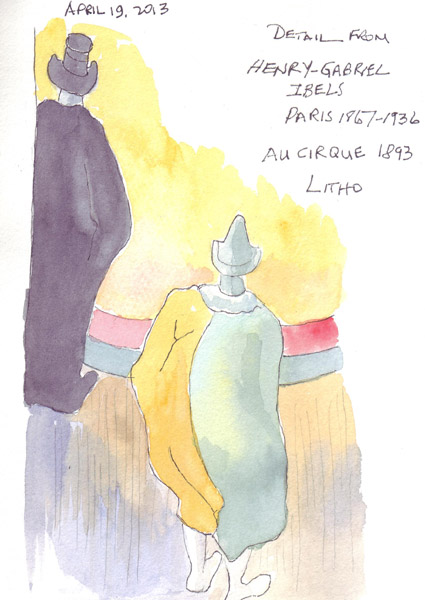 I love the annual watercolor show and enjoyed it again tremendously. It is hard for me to fathom how accomplished artists can make such amazing paintings! A real inspiration, but not a realistic goal!