Berlin - 2012
Berlin is a big bustling city and it is almost impossible to imagine that 75% of it was destroyed in WWII and is now rebuilt. We took a Hop On/Hop Off bus on our day of arrival, to stay awake after an overnight flight from the US. It was a wonderful way to see many of the sights that were further from the center of the City. The Soviet style architecture of East Berlin differs greatly from the resonstruction done in West Berlin.
We took a 3 hour Third Reich walking tour on the second day (Original Berlin Walks). Our guide was a PhD candidate and not only did she discuss lots of important history with us, but she was very interested in discussing the shame of being a German. Her grandfather was a Nazi, in a small village in Germany, and spent a year in prison after the war. School children must learn the history of WWII 5 times in their school curriculum and there are required visits to the scenes of terror and death.
These are drawings done while walking with our guide. The detail of the facade of the Reichstag and the Soviet Memorial (to the soldiers who fought in the Battle of Berlin) were drawn while listening.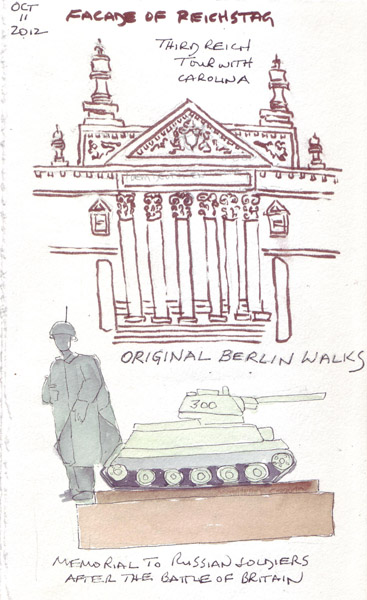 For each walking tour, I did a drawing of our itinerary in my sketchbook, so I would remember some details.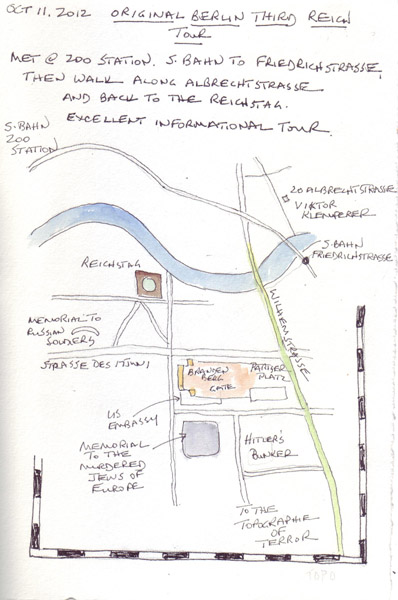 The Reichstag Dome was closed for annual cleaning and maintenance, but we were able to walk around it, see Berlin from the rooftop terraces, and then have a fabulous lunch at the restaurant overlooking Berlin. It is definitely worth making a reservation for lunch in the restaurant (Kafer Berlin GmbH) during a visit.
Here is my photo of the Dome, by Sir Norman Foster, seen from the entrance on the roof.