Visiting Germany, Czech Republic, and Hungary
We just returned from our visit to Berlin, Dresden, Prague and Budapest. I sketched throughout our trip, but we were almost always on the move and most of my sketchbook pages were done while walking. Each day I also selected one image to paint in the 2 X 2" grid I made before we left. Here is the completed grid.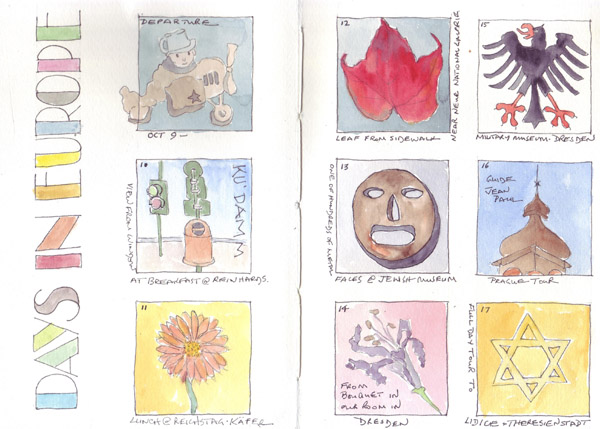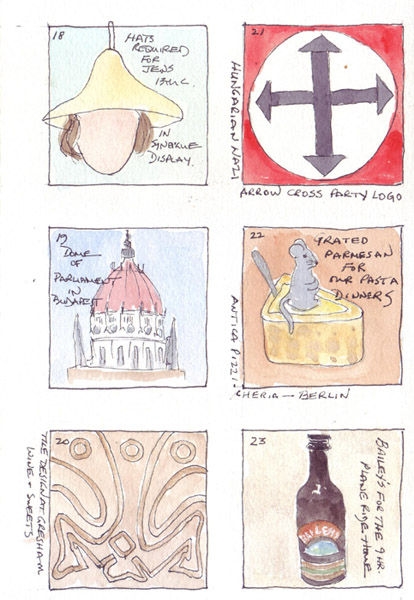 It was very important for me to visit these cities and to learn more of their history during WWII and the Soviet occupation that followed. We spent one full day in Prague visiting Lidice and Terezin, and this was one of the most memorable days of our trip. The Nazis totally destroyed the town of Lidice (shooting the men, gassing the children, and transporting the women to the camps) to revenge the assasination of Nazi Reinhard Heydrich. Here is a photo I took of the current site of the non-Jewish farming and mining Czech town.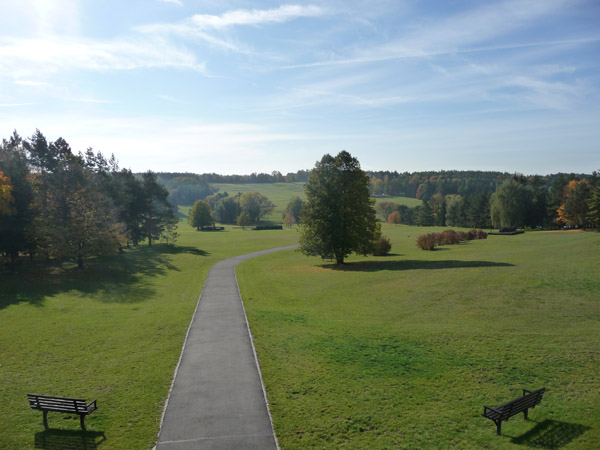 We toured the museum, and saw the memorials in Lidice. The statue, created by Maria Uchytilova (1969-89) memorialized the 82 children that were murdered. It is extraordinary!
I sketched several children and then added candles that were painted on the wall in a hidden Terezin synagogue room (created by imprisoned Danish Jewish craftsmen) and one of the very large Terazin memorials (that is in a cemetary field where prisoners who died of typhus etc were buried). Terazin was the "model" Nazi camp - the one that the Red Cross visited to "falsely" assess the conditions in Nazi camps. However, it was a transfer station on the way to Auschwitz - and the majority of prisoners from Terazin were transported and murdered there.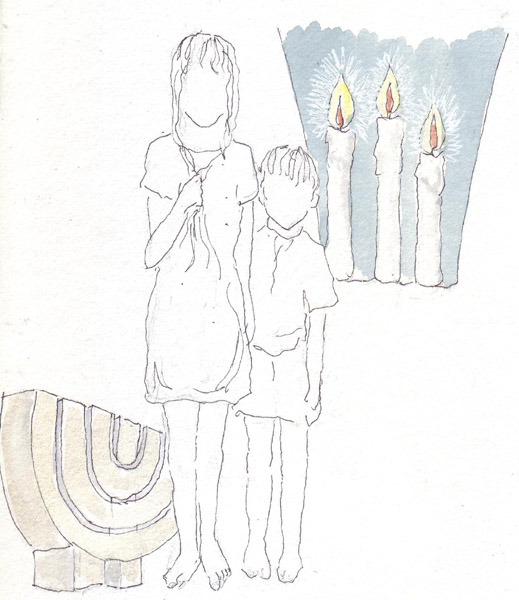 There were many artists held prisoner in Terezin (also called Theresienstadt) and the art museum contains secret drawings and paintings that were done, before they were murdered in Auschwitz. There is a large book containing all of these,that was published in 2002, entitled Art Against Death. It was too big and heavy to carry home, but I loved it so much that I will search for it in the US.