Mixing Many Greens with Watercolor Paints
I got interested in mixing paints again after my last gouache experiments. When I bought my first Winsor-Newton artist grade watercolors in 2003, I bought a warm and a cool triad and then followed those purchases with 3 more "primary color" paints for a total of 3 triads. I switched out the cadmium red and cadmium yellow after several years because they were too opaque, but haven't changed anything else. With these colors, plus one brown and one gray, I can mix many, many colors very easily.
Mixing 3 yellows and 3 blues in varying proportions (9 combinations total), sounded like fun and I decided to put these tests on a card so I can remember the resultant colors and select which shade of green I want. I mix paints very loosely, but this exercise demonstrated that several mixtures produce traditional greens and several others produce shades of olive green.
There are 3 sets on the next two cards: The yellow is identified at the top and the blue is painted next to each set. In each row, I kept mixing in more yellow until it was clear that I overwhemed the blue. The order is obviously a little random. However, with yellow ochre, I never really got a good green with my original mix - but the aqua and grays are lovely.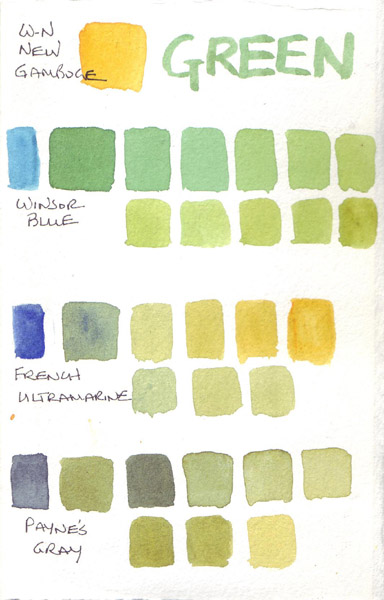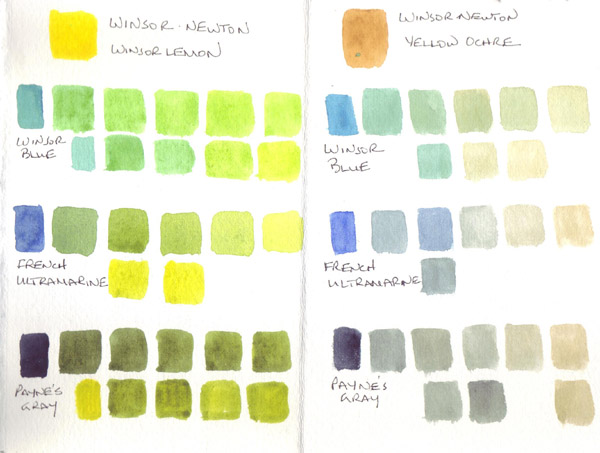 I also have a tube of quinacridone gold and decided to test it with the same 3 blues. It also makes some nice greens.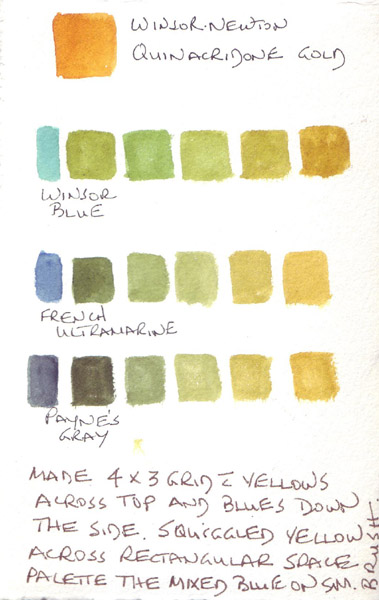 All of the above experimentation is quite funny, because I don't paint landscapes. But I do paint individual flowers and can never remember which combination of my primaries I want for specific leaf colors. Now my Green card is in the back of my sketchbook so I can make better and easier choices.