Recent Exhibit Visits in New York City
I continue to draw from the Masters when I visit our local museum exhibits.
The Neue Galerie has their Klimt collection on exhibit as part of a world-wide tribute on Klimt's 150th birthday. In addition to their paintings, they exhibited many of his drawings and photos. It is a very small collection that is on display, but I love his figure drawings and sketched several heads. I also sketched two scuptures I like, Kneeling Youth, by George Minne.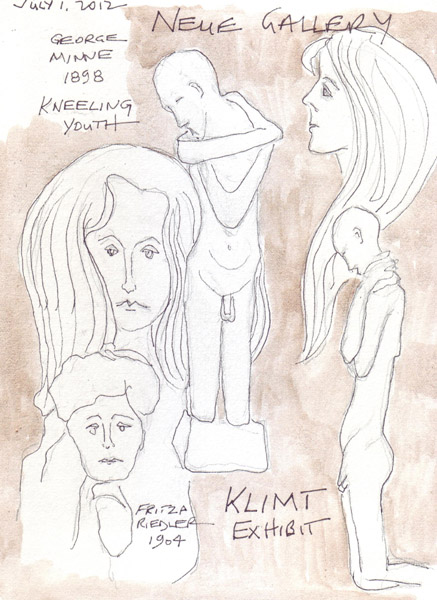 I met my Art Buddies at The Museum of Modern Art to see the newest exhibit, New to the Print Collection: Matisse to Bourgeois. I love most of Jasper Johns prints and the first print in the entire exhibit was no exception. Titled "Untitled," it is an aquatint of images found in many of Jasper Johns paintings - discs, a ladder, the vase-face double image, and figures. Since I will never own one of these prints, I was inspired to sketch and paint a version of it just to remind me how much I enjoyed seeing it. Last year I fell in love with these Jasper Johns "Seasons" aquatints that were being auctioned at Sothebys.