Making A Second Venice Sketchbook
I didn't start sketching and painting with watercolors until 2003.
Before going on our recent vacation to Venice, I painted some iconic Venice sights from my 2002 Venice photos. I accordion-folded two 6" by 30" strips of watercolor paper and slowly painted 16 images - using both sides of each strip.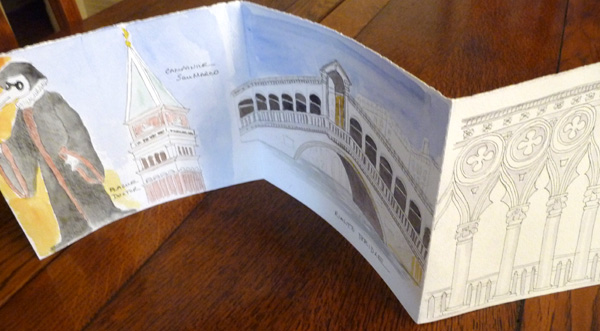 I'm thrilled that I did these pre-trip paintings because while in Venice I was comfortable just doing quick sketches based on our activities. I've posted many of those travel sketchbook pages on my blog in the last month. Those sketches, done in the moment, really are my memories of our recent trip.
This week I decided to make my "pre-paintings" into a small book. I tore each accordion strip into two folios (4 total) and stitched them together as 4 signatures (16 pages). The end papers are a commercial Venice printed paper and the cover is black Tex Libris book cloth. The book is 7 7/8" wide by 6 1/4" high.