Adult Art at Battery Park City New York
Last year I learned about a free Battery Park City Parks Conservancy adult art program. I went approximately 6 times last year between May and Oct, and this year already attended Figure al Fresco 3 times. I bring my sketchbook, pencils etc, but they provide free art supplies and sometimes get some curious visitor to sit down and join us. I still love sketching nude models best, but find the challenge of drawing clothed models a nice change.
I was downtown Wednesday morning and dropped by the Elements of Nature Drawing session in Wagner Park. This is where I painted the day liliy at our Meet-up Drawing Session several weeks ago. This week the hibiscus were in bloom - and HUGE. The session was almost over, but not before I painted a hibiscus.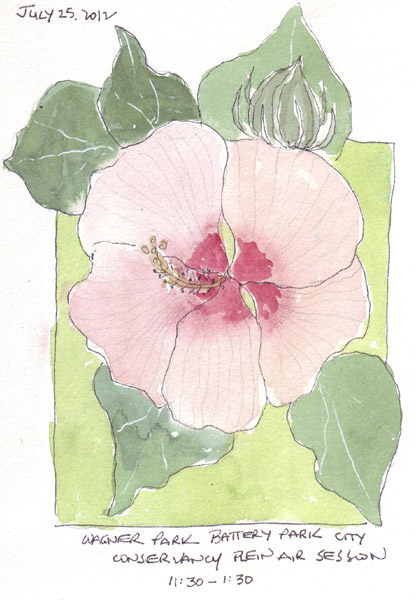 My friend Judy (artist who sketched the figure on the Adult Art brochure) and I then walked to South Cove for figure drawing. Here are a few of my sketches of the male model - who was wonderfully inventive in his poses.
One Minute Pose - I love these - no time to think or fuss!

Two Minute Pose

Five Minute Poses: I think these may be my favorite pose length - not much time to think and I still am sketching when the model changes position.

This one makes me giggle. Only when I finished it did I realize that the model was resting his elbow on his knee - thus the arrow pointing a my huge area of "negative space."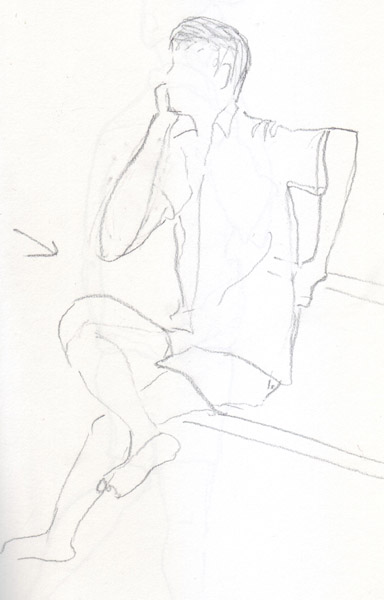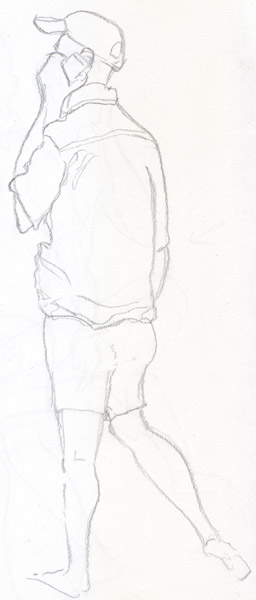 Ten minute Pose: The model wheeled over his bicycle, put the kickstand down, and climbed on for the 10 minute poses. I sketched in watercolor pencil and then used a Niji waterbrush to spread some pigment.