Venice Sketches - 2
Here are two more sketches in preparation for our Spring trip to Venice. They are on the accordion watercolor strip of paper that was leftover from the new "Italian Dreams" sketchbook I made for the trip.
That sketchbook was the subject of the bookbinding tutorial that I put on this blog over the last 2 weeks. I was thrilled when Rice Freeman-Zachary asked if she could post an interview with me on Create Mixed Media and Part 1 appeared yesterday (Friday). Part 2 will appear on Monday.
I hope that my enthusiasm is contagious and more artists will make their own sketchbooks.
New Venice Sketches
I combined elements from a few of my photos for this gondola/gondolier drawing: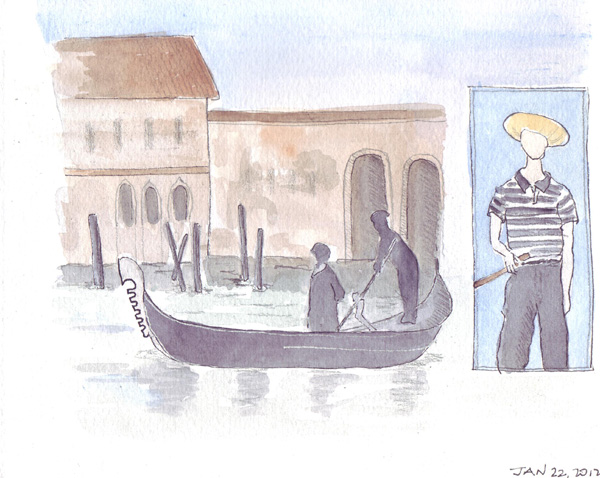 The Basilica San Marco is an amazing building - extremely complex architecturally and a huge challenge for me to draw. None of my photos show enough detail, but at least I can start to understand the basic structure. This is my first attempt.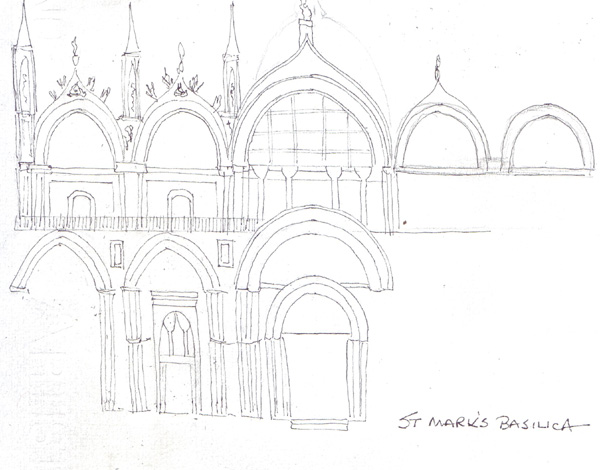 I look forward to short sketching sessions, in front of it, to sketch some of the details. Then I can combine my preliminary sketches and try again.