Bernadine Gillis - William J. Ross My Maternal Grandparents
This is the second of 4 monthly blog posts in which I will outline information about one of my 4 grandparents and their ancestral line. Last month I posted information about my Maternal Grandfather William J. Ross and his ancestral line.
This month I will post information about my Maternal Grandmother, Bernadine Gillis, and her ancestral line.
This is Bernadine Gillis as a young woman - date unknown
Here is another photo of my maternal grandparents William and Bernadine. The first appeared in last month's posting.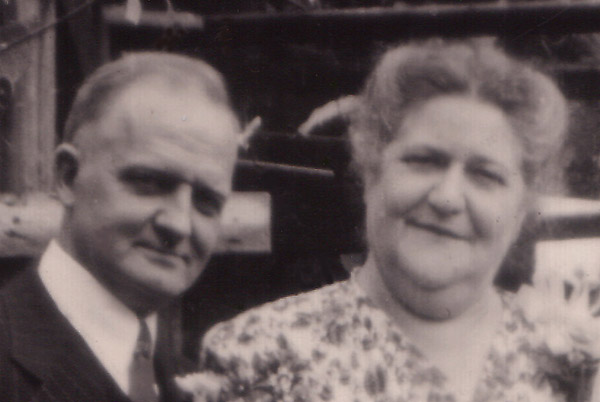 I started doing family research (genealogy) in 2000, using old fashioned methods. I went back generation by generation using records on microfilm at the National Archives branch in NYC, the New York Public Library, the NY Muncipal Archives, and the State of New Jersey - and obtained available birth, marriage, death, census, passenger list, and naturalization documents for each ancestor. After several years and many generations, I reached brick walls in each line, due to lack of existing records. In the process I met distant cousins through genealogy message boards, and became friends and co-researchers with many of them.
I recently read that CURRENT genealogic researchers rarely use Genealogy message boards, but instead "google" names of interest, so blogs are now the most important method of making connections. I therefore decided I would post information on each of my 4 ancestral lines here on my blog - which is usually used to share my art and textile passions. This will be an extra post each month.
Bernadine Gillis was born 23 January 1894 in Paterson, NJ to Margaret Roegiers and Heli Gillis. She married William J. Ross in Paterson on 28 Apr 1915 and together they had 7 children, including my mother.
Bernadine's mother, Margaret Roegiers, was born in Paterson NJ on 26 Mar 1870, married Heli Gillis in Paterson, NJ on 25 June 1889, and died there on 28 Nov 1914. Together they had 7 children, but only my grandmother had children, making the Gillis family difficult to study.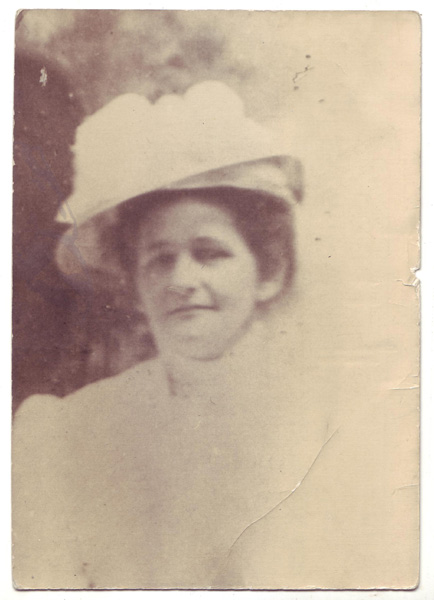 Margaret Roegiers
Margaret's father, Peter Roegiers, was born 17 Jul 1837 in Waterland-Oudeman (Sint-Laureins), District Eeklo, East Flanders, Belgium, and arrived in New York on 25 Dec. 1863.
He married Mary DeSilva Dalinger (ca 1960-63), but no marriage certificate was found. Mary was previously married and had one child. Her father, Louis, and Stepmother Virginie DeSilva, came to the US with Peter Roegiers on 25 Dec 1863. Together Mary and Peter Roegiers had 10 children.
Here is a Roegiers family photo, with Margaret seated in the first row, second from the left - next to her parents Mary and Peter. While doing research on the Roegiers family I connected with descendents of several other Roegiers children. Three of us met regularly, shared our information, and did more research together. This photo was given to me by one of them.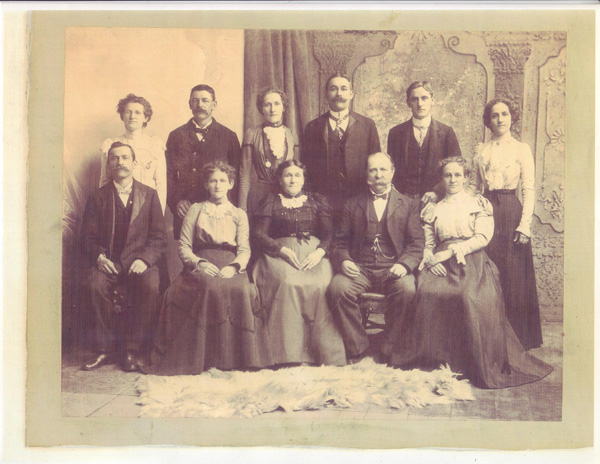 Margaret Roegier's husband, Heli Gillis, was born in Eeklo, Belgium on 10 Oct 1866 and immigrated to the US ca 1883-4. His parents, Petrus Gillia and Virginie Aercke, and siblings Alice, Rene, Helena, Modeste/Morris, Charles also arrived in the early 1880s. A 7th child, Frederick, was born in Paterson NJ. I have no pictures of my great grandfather Heli or his family.
I will be happy to share information with any other descendents of these ancestors.