Winnie the Pooh's 90th Birthday
Pooh Bear was given to Christopher Robin Milne on his first birthday in 1921 and the New York Public Library celebrated his 90th birthday this past weekend. Pooh, a gift from Harrods, was one of 5 of Christopher's stuffed toys that were used by his father A.A. Milne as the inspiration for the characters in his 4 Pooh books. E.H. Shepherd also based his original illustrations on the toys. The toys were given to the American publisher, E.F. Dutton, in 1947. They in turn gave them to the New York Public Library in 1987. This is a picture I took of Pooh Bear and Piglet on my visit Monday.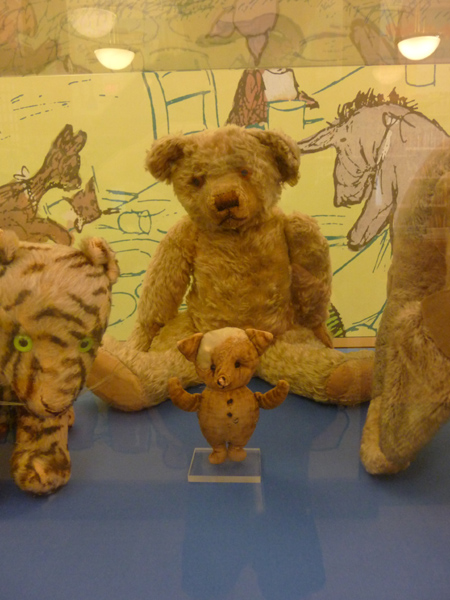 Kanga, Tigger, Piglet, Pooh, and Eeyore live in a glass case in the Children's Library in the main NYPL Library Building on 5th Ave.
I first saw these toys at the Victoria and Albert Museum in London in 1970 and assumed they "lived" in London. The Milne House is in London - in Chelsea, right off the King's Road. So I was later thrilled to learn that they actually live in NYC and yesterday I went to the Library to sketch them in honor of Pooh's birthday.