Zach at the Central Park Zoo
We had our youngest grandchild, Zachary, with us for the weekend. On Saturday morning we decided to take him to the Central Park Zoo and set off with stroller, diapers, snacks and camera. As soon as we tried to put him in the stroller, he complained bitterly and stressed, "No stroller." I asked him if he wanted to walk, preferring to avoid the fight, and he smiled and said yes. Zach is one year old - soon to be 2.
I told my husband that he would get tired and ask to ride, and every several blocks I asked him if he was ready to ride. I was walking at a regular pace and he was almost trotting, holding my hand. Twenty-four blocks later we arrived at the Zoo - he walked and sometimes ran the entire way!! In New York City, 20 uptown-downtown blocks equals one mile!
And then he walked around the entire Zoo! I find this phenomenal and told our son that he finally had someone who would be running and cycling with him in a few years!
Here he is watching the sea lion exhibit. His shirt says Here Comes Trouble!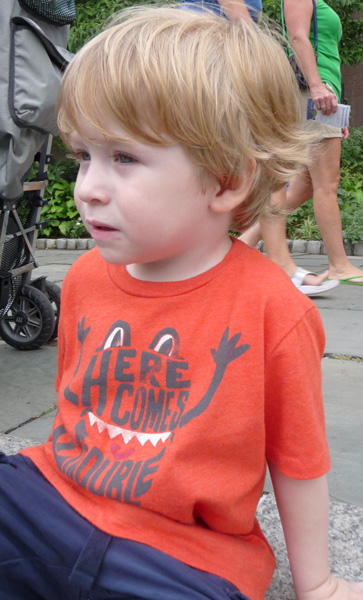 We always love the penguins. I took photos while we watched them and sketched these later during naptime.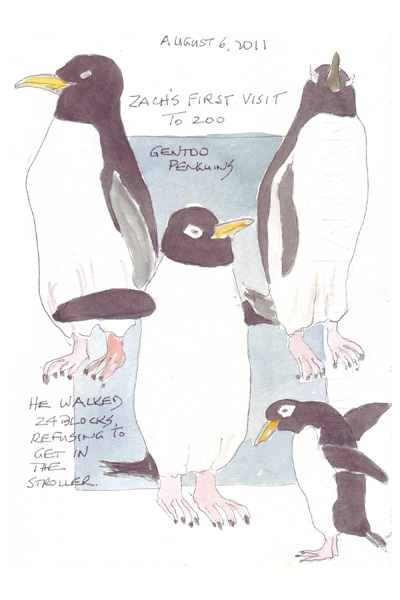 Zach saw the polar bear, monkeys, and lots of birds. Here he is walking ahead of me at the end of our visit. And he was still full of energy!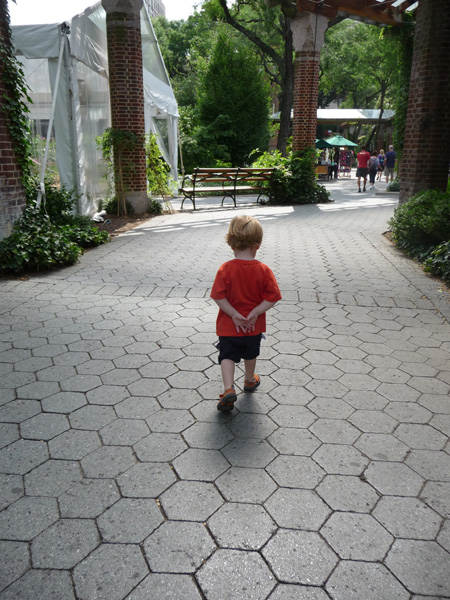 Here is my sketch, to make sure that I have memories of the wonderful day.