Memorial Day in Washington DC.
My husband and I spent a long Memorial Day weekend with our son, his wife and our 3 year old grand daughter Annabelle in Washington DC. When she was born, I started a sketchbook for her and I routinely fill one page each day that we visit. It is part travel sketchbook and part visual journal of our days together. I completed 4 pages during this visit and I'm including them in this post. Prior pages can be seen by clicking on the Washington DC category at the bottom of the right-hand side bar.
The sketchbook is a 10" x 7" Cachet Linen watercolor sketchbook - the same one that I used for all of our trips to London. I can work on both sides of each page, but there is a little buckling that you can see when the page is scanned.
We watched the Pixar movie "Cars" our first morning and she requested that I draw and paint "Mater."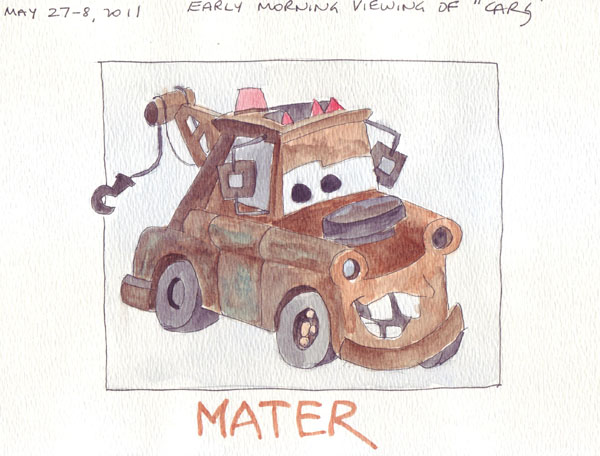 We took Annabelle to the National Air and Space Museum on the Mall and while my husband took her through her favorite simulators, I sketched an aerial airplane and painted it later from a photo I took.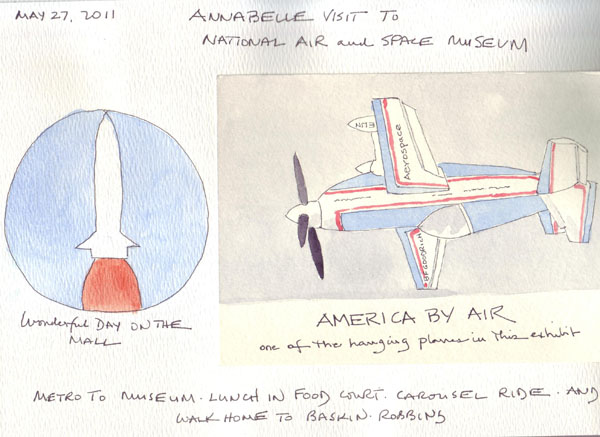 One morning I took Annabelle to buy art supplies and thought that she would love using the Crayola Paint Brush Pens. But after she used the first one, she insisted on using the other new brushes and Crayola pan watercolors I bought - and I couldn't convince her that the brush paint pens weren't markers!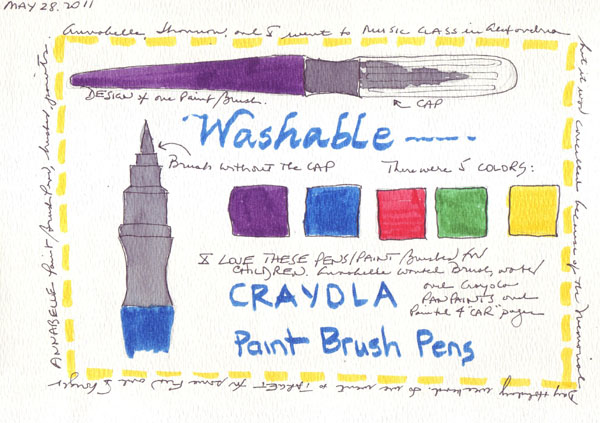 It was really hot in DC all weekend, and Annabelle spent several hours with one of her friends in an Arlington playground with lots of waterplay. I sat in the shade and did quick sketches of her, pail in hand, to record the event.