Sketching at the National Museum of the American Indian
Thursday morning I met my art friends Teri and Judy at the National Museum of the American Indian - NYC branch - to see and sketch in two exhibits. Preston Singletary, a glass artist, uses symbols from his Tlingit Native American heritage and the pieces are magnificent. I chose to draw these two glass sculptures because of the legends.
The first is the story of the Raven and the Sun. This is the end of the story: ....as the beautiful ball of light reached him, the Raven captured it in his beak! Moving his powerful wings, he burst through the smokehole in the roof of the house, and escaped into the darkness with his stolen treasure. And that is how light came into the universe.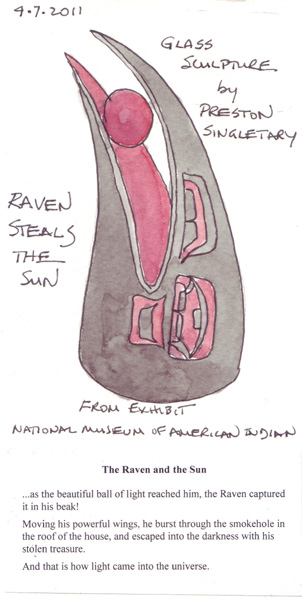 My second drawing was of an Oystercatcher Rattle - used by the shamans for healing. The writing on the journal page, taken from a quote in the exhibit says: "In the old days things were made for a purpose, and there was a story and maybe even a dance that went along with it." This sculpture represents the oystercatcher bird, and on his back we see the shaman, the seducer, and probably a goat. These figures are very symbolic in this story.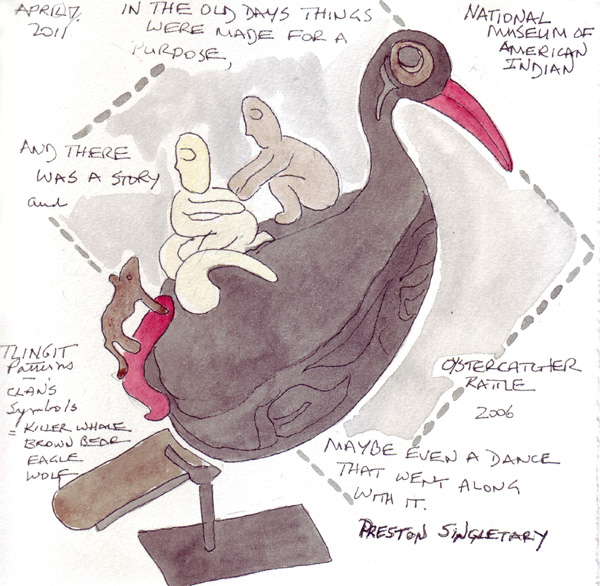 The other exhibit we saw was Small Spirits: Dolls from the National Museum of the American Indian. I sketched one doll while at the exhibit and the second from a museum photo because I couldn't get the mother and child out of my mind.