Last Week's Field Trip With Art Buddies
I spent one day last week with my "artbuddies" Melly and Pat - lunch followed by the Morgan Museum, then supper, and then a lecture at the Textile Study Group of NY by Holly Heller. Since we share interests in sketching/visual journals as well as art quilts, I knew that we would be sketching and I wanted to have my hands free. I have a very small leather backpack for 1-2 hours of sketching, but such a long day required more stuff. So I made, and wore, my new very light weight, silver, drawstring backpack and it was perfect for wallet, keys, comb, lipstick, kleenex, Metrocard, mini-umbrella, sketchbook, pencil case, small watercolor palette, etc.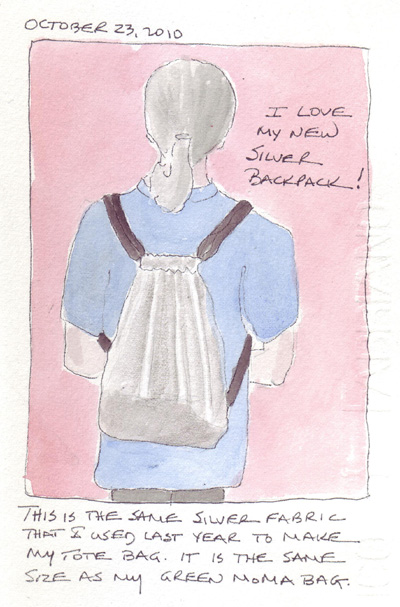 I drew a grid and sketched/painted my lunch while waiting for Melly and Pat - then we spent the afternoon looking at the 4 exhibits in the Morgan Museum (home of J.P.Morgan). We were primarily interested in the drawings of Lichtenstein and Degas, thus the other two sketches in the grid. I continually read and hear about Benday Dots when viewing work by Lichtenstein and we had a great time imagining the origin of the word. I was surprised to later learn from a Google search that the name comes from the first use of dots in newspapers, by Benjamin Day. It was a good way to add color without adding lots of ink to newsprint.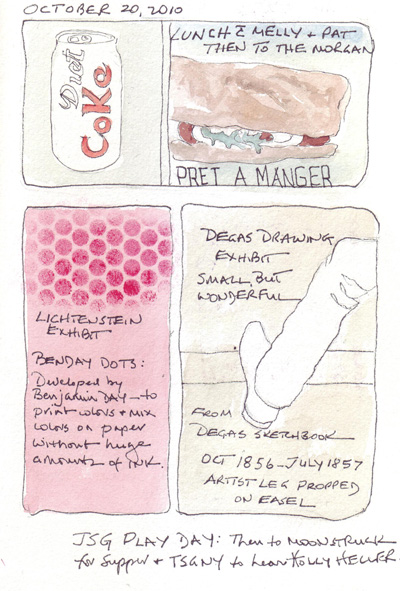 At the end of the afternoon, we went back to the Degas exhibit and sketched our favorite drawings - and looked more at his sketchbooks (which are online). I'm always optimistic that copying a favorite master may put some of their technique into my muscle memory - how I wish. I love ballet and always loved Degas' dancers - especially the series of bronze sculptures owned by the Metropolitan Museum of Art. Therefore, my favorite drawing was actually 3 drawings, from different angles, of the 14 year old model used for his most famous ballet sculpture (Dancer of 14 Years).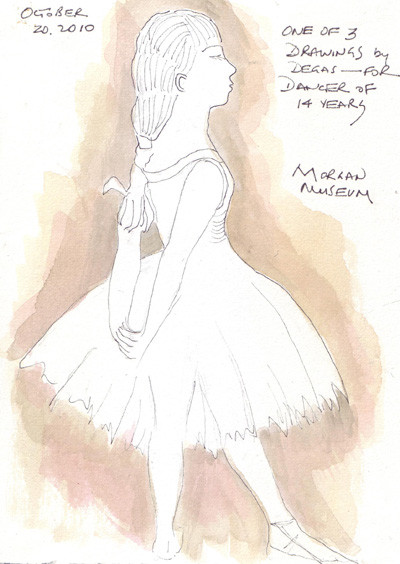 I hope that you'll look at the links to the exhibits if you won't be in NYC anytime soon. Next - we need to go see the Spanish Drawings at The Frick!