Wandering Manhattan with Liz Steel and Borromini Bear
It is Liz's first trip to New York City and Friday was her first full day. I asked her if she wanted to get a visitor Metro Card and go from the Upper Eastside, all the way down to Battery Park and the New York Harbor by bus and subway, stopping along the way to eat, sketch, and see things on her list. And we did it!
After a leisurely bus ride down 5th Ave to see Central Park, Museum Mile, The Plaza, St. Patricks, and Rockefeller Center from the bus window, we stopped at 42nd Street and the New York Public Library. Here is Liz sketching the Chrysler Building.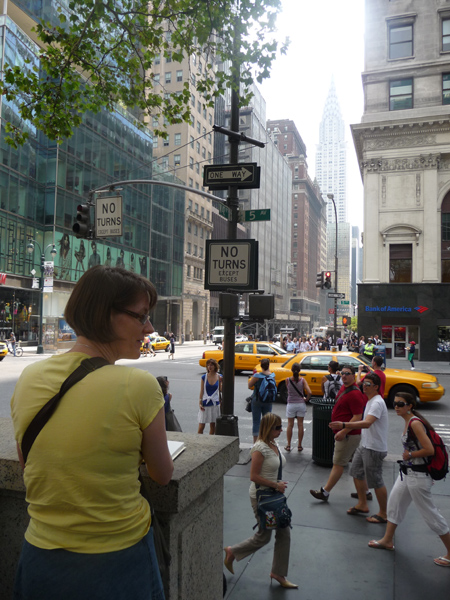 And Borromini Bear watching her.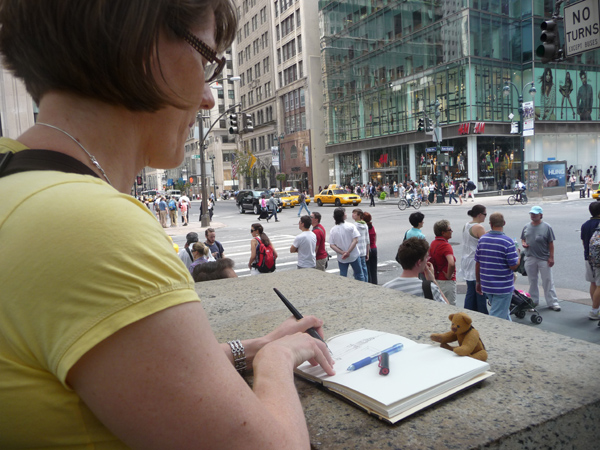 Here is the sketch that I did at the same time. I'm not sure that she posted hers.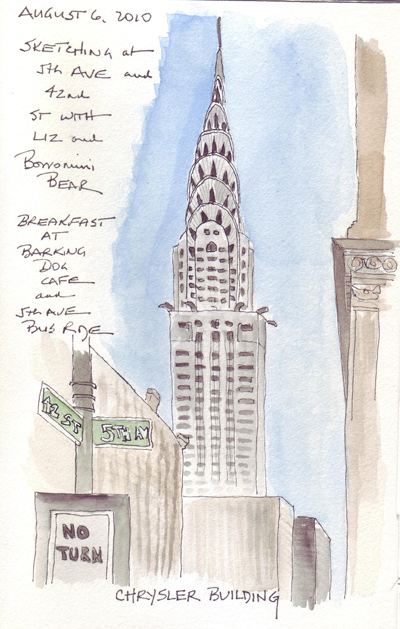 We then went into Bryant Park, behind the Public Library and Liz sketched the top of the Empire State Building while I analyzed a chair and table! I was much more interested in watching an architect sketch this famous landmark, since I've struggled with it several times already.
After a walk through Times Square, a subway ride to Christopher St, a walk through the Village and Washington Square Park, we stopped for a quiet lunch and then resumed our walk in Soho. This is the flat iron district and the buildings were so much fun to analyze. Liz found a very complex one that she couldn't pass by. We sat while she sketched the facade of the building while I sketched one of the columns.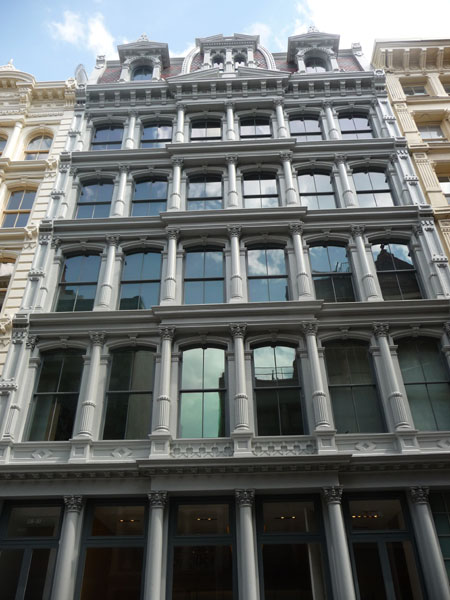 She bought a quick art supply souvenir at Pearl Paint on Canal Street and then we took a bus down Broadway, through the Financial District, past Ground Zero, to Battery Park and a glimpse of the Statue of Liberty across the Harbor.
We are planning another day together before she leaves, but you can follow Liz "sketching New York" now on her Flickr site or blog.