Every Day in May - 20
I finally finished Chapter 3 in the Bert Dodson book Keys to Drawing!!!!
These two pages were done and should have been uploaded yesterday, but I was too tired after a very long (7:15AM-9PM), but wonderful, day with two of my grandsons. Eight month old Zach is crawling really fast and pulling up on anything, even trying to climb, so he requires constant attention. But he is a really happy baby - and it is wonderful watching his development. Four year old Robbie is a master builder of extremely complex multiple level Geotrax train systems and can build for hours when he comes home from pre-school. He has a wonderful design imagination and is extremely fast - and when he finishes another complex track he usually has 5-6 remote controlled trains navigating the system at once.
The first drawing is of a foreshortened head. I did it using a light grid because I knew it was the only way for me to capture even a slight resemblance to my pretty grand daughter Sydney - who was eating a snowcone when I took this photo.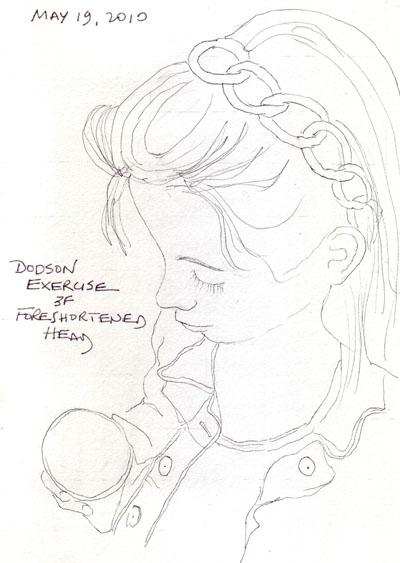 This page show some emphasis of facial characteristics which is the final page (but not a project) in Chapter 3. These were all drawn from faces in my figure drawing group this week.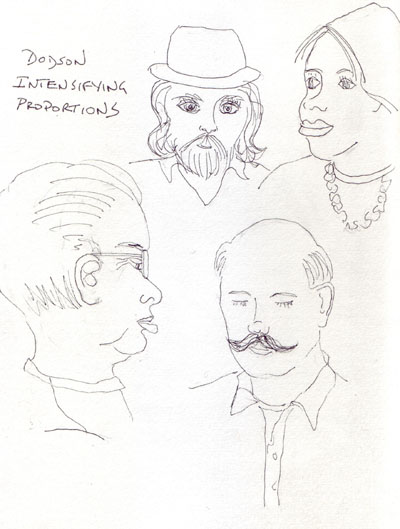 There are 5 more chapters in the Dodson book - which is a very sophosticated full course in drawing. I was stuck at one place in Chapter 3 for too long and will try to make more continual progress. But I have no deadline and learn so much from the projects.