Museum of Modern Art Visit
I spent several hours at the Museum of Modern Art today - primarily to see the Tim Burton exhibit before it closes on Sunday. There are hundreds of drawings and many sculptures. Many of the drawings are from sketchbooks and many are preparative pieces for his movies. The exhibit was sold out today, and the crowd was young and enthusiastic as noted in the NY Times piece below.
Tim Burton Retrospective: THE mouth of a giant monster, its razor-sharp teeth glaring overhead and its tongue forming a long red carpet, ushers visitors into the Tim Burton retrospective at the Museum of Modern Art. Although the intentionally lighthearted chronicle of the filmmaker's work received only mixed reviews when it opened in November, Mr. Burton's fans don't seem to care. More than 450,000 people have already attended the show, and by the time it closes on April 26, attendance is expected to exceed that of recent blockbusters like the museum's "Van Gogh: The Colors of the Night" last year and "Dali: Painting and Film," in 2008.
Visitors to the show are relatively young, somewhere in their 30s on average, which makes them a decade younger than usual for
MoMA
, recent surveys showed. And a surprising one-third of this audience had never stepped foot in the museum before.
I loved this sculpture entitled Robot Boy, 2000.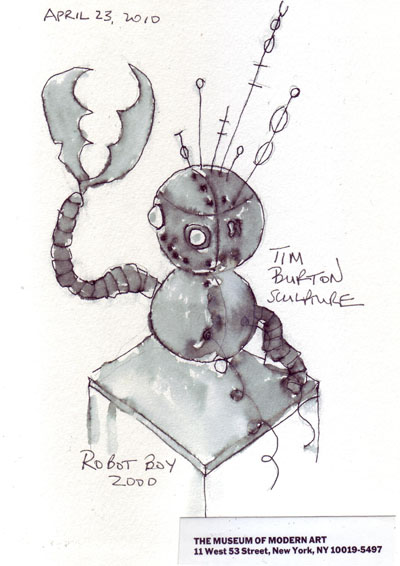 Marina Abramovic: The Artist is Present Marina Abramovic has a controversial exhibit at the Museum, that I did not see. However, the performance artist herself is sitting all day, everyday in the large 2nd floor atrium as described in the New York Times piece below.
From The New York Times March 11, 2010 "She's scheduled to sit there all day, every day, during museum hours, for the run of her show. The museum estimates that, if she can stick to the plan, she will sit for 716 hours and 30 minutes, earning her a record for endurance in the performance art sweepstakes. And every now and then someone will slip into that chair across from her — that's what it's there for — and spend some time exchanging stares, or energy, or going blank, or thinking, maybe for the first time, about that hard, high-flown, funny word "endure."
Today there was a line of people who wanted to sit and stare at her - usually for 30-45 minutes each. Someone I spoke to said that she sat with her 3 times already since the show started- it is like meditation! I don't get it, but it was fun to sit there and sketch her. She never moved a muscle!