Demon from the Hours of Catherine of Cleves
I went to the Morgan Library and Museum last week to see the current exhibits - and sketched a demon from the illuminated manuscript called the Hours of Catherine of Cleves (15th C.). It has a very interesting history and the borders on each page are amazing and never repeated. I sketched one of the demons (which appeared on the corner of the border of page 94 and was enlarged in a photograph as part of the exhibit.)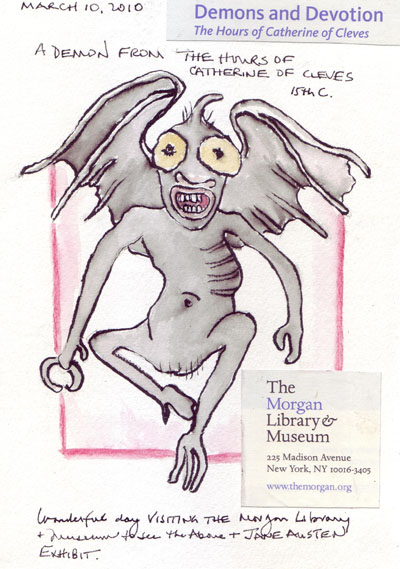 It is worth looking at the facsimiles on the webpage in my link to the exhibit just to see the quality of the painting and the brilliance of the colors.
Donna posted drawings today that she did with her new Pentel Pocket Brush Pen. I agree with everything she says about the pen and ...
I decided to upload this drawing today in order to demonstrate that on my Fabriano Artistico 140 lb soft press paper, the ink that comes in the cartridges with the Pental Pocket Brush Pen is watersoluble. The gray color of my demon is just ink pulled into the drawing with plain water. I allowed the ink to dry for 15-30 minutes before "painting it" with the water. I know that others don't have this problem, so I assume it is paper-dependent, since we have compared pen product numbers, etc, etc.