Visit with Annabelle
We were in Washington DC over the holiday weekend visiting our grand daughter Annabelle. When she was born, I decided to keep a separate watercolor journal just for my daily sketches during the days I was visiting her.
This journal page shows the helicopter magnetic puzzle - the smallest Christmas present that we brought in her big, full Christmas gift bag and a window seat that houses her toys in a group of storage baskets.
Some of Annabelle's clothes that I wanted to remember - and her special infant backpack - that she put on and took off repeatedly over the weekend.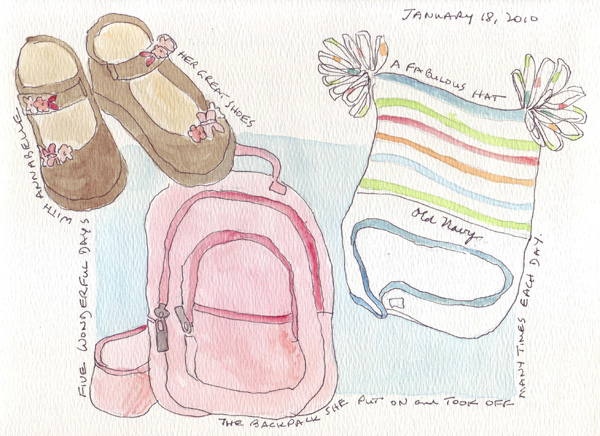 On Sunday morning we went to the Air and Space Museum at Dulles - an amazing place with an incredible number of planes, helicopters, missiles, and space vehicles. Annabelle loves to run through the gigantic hangar, so this sketch was done from a photo that I took as we ran with her.
On Monday morning we took the Metro to the Commerce Dept - and the National Aquarium. It is a lovely, small collection of tanks - and I was captivated by the seahorses. Their tails were so much longer than I had imagined and were wrapped around the tank plant holding them all in position. Annabelle wasn't nearly as interested in fish as she was in airplanes!