Daily Journal Pages
This is a very busy week in our household - my husband and I do all of the cooking for family and friends on Thanksgiving (20 adults this year) and we're not getting any younger. This year, we moved the venue to my daughter Rachel's apartment, but that meant that we were caterers - a new challenge. But we didn't need to set up the apartment which was a wonderful help. It was the year when all 3 of our children and their families were with us. We have several hours of champagne with 7 hor d'oeuvres, then soup, salad, turkey, sausage stuffing, fresh baked bread, etc, etc,
Tuesday: I bought great carrots to use for our soup and decided to sketch them while cooking.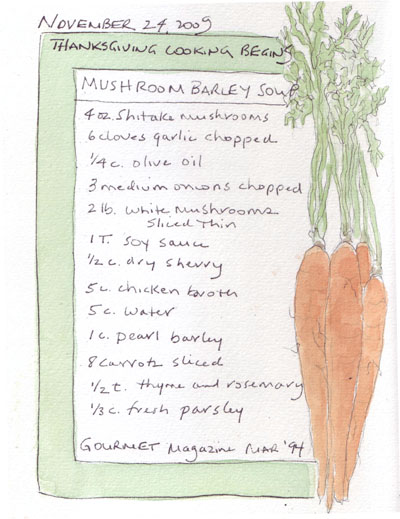 Wednesday: I used fresh lime juice for a recipe and cut up all of the mushrooms for soup - and sketched and painted both of these while taking a break from cooking.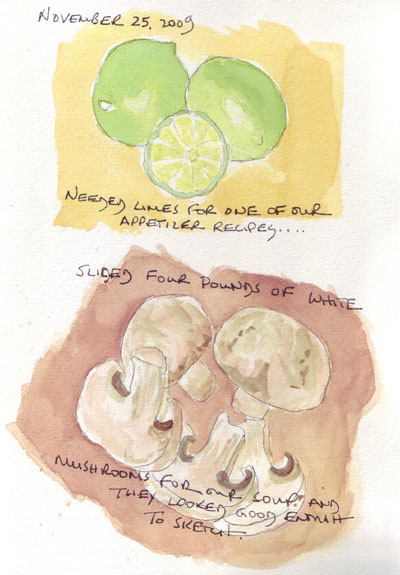 Thursday: The day was a whirlwind, and after the guests left and the children were asleep, I sketched and painted my 2 year old grandson's stuffed flamingo. He loves flamingos and entertains us constantly by assuming a one-legged flamingo pose and flapping his wings. When my daughter came in the morning to pick us up with all of the food, he was hugging the flamingo and shared it briefly with me. I would like to make this into a Christmas ornament this year for his stocking so none of us will forget this great stage.