Holiday Weekend Sketches
We spent the 4th of July weekend at the beach with two of our children and their families. We were busy having fun with our 4 grandchildren, so only a brief sketch was done in my recycled sketchbook each day. I was mesmerized by the color shifts between the sky and the ocean one morning and wanted to try to capture the colors - but of course you can't really see the true colors on the scan unless I enhance it! Oh well. We were seated in the shade some distance from the surf.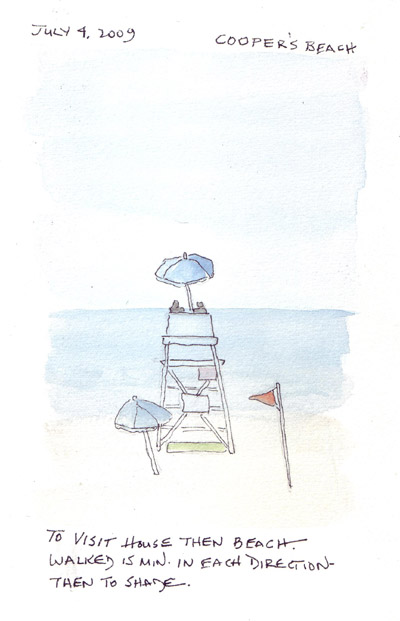 Just to have some live figure drawing practice with people who don't move, I sketched my daughter and husband relaxing in the sun.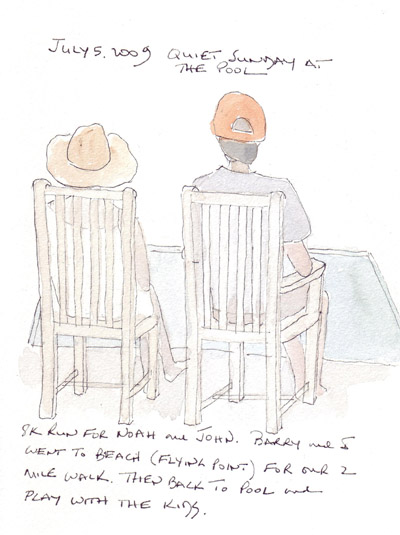 We love early morning 2 mile walks on the beach - looking for shells and bones from the fish, skates, and rays. When we were there in June we found lots of cartilage/bone pieces, and only a few shells. This time there were none of either. I'm beginning to learn the cycle of the sea! But there were wild daisies growing on the path to the beach so I took a spray home to draw and paint while I had breakfast.
My favorite sketches at the beach are the sea gulls. But it is really difficult to get close enough before they fly off, so I take photos and sketch them after my pictures are uploaded. I always try to get a photo of them running for take-off, but never get the exact clear image I want. Some of my other seagull drawings from previous beach trips can be seen in the Southampton category in my blog.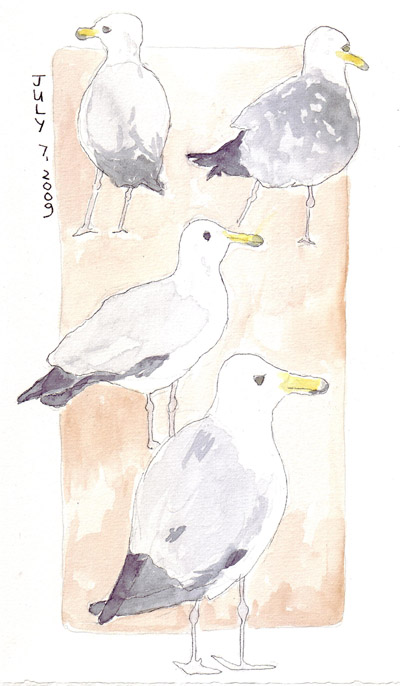 ENJOYING ICE CREAM ON THE PORCH AT THE BEACH HOUSE: