EDM Challenge #227 + other Journal Pages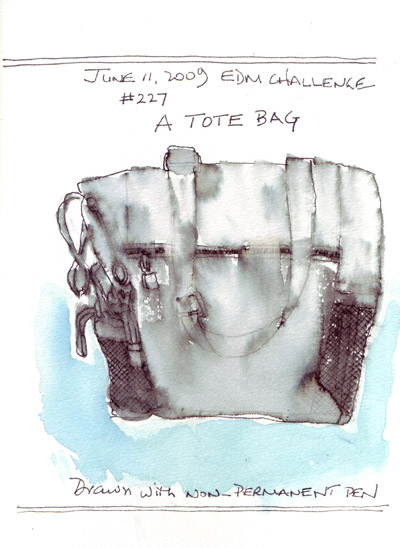 This is a drawing of my tote/book bag that I use for work. It is made of a heavy canvas and has one zipper pocket and two mesh side pockets - one of which always contains my umbrella. It is black and I decided to draw it with a Pilot Varsity pen and then brush water over the non-permanent ink. I just felt like playing!
Tuesday was my birthday. I spent the day in New Jersey with my 90 year old mother and then returned to Manhattan to have dinner with my husband and oldest grandchild. Henry graduated from kindergarten last Friday - and came to stay with us -across the Park - for a few days because his siblings were still in pre-school each day. We had a wonderful dinner at Naples 45 and then as we were walking back to the entrance at Grand Central Station, I took a photo of Henry and my husband carrying the left over pizza.
After getting Henry into bed, I only had enough energy to sketch some 90 second pose maniac figures - this time in different colored pencils,
The next evening I sketched from the photo.
I am currently doing a countdown until I retire - 40 years after I started my first full time job! I have only 7 more work days - scattered over the next 2+ weeks!