Every Day in May - 1
This is my 3rd year participating in this challenge. I already complete one journal page per day, but I only upload a small number of those pages to my blog. Shouldn't be a surprise that I don't upload drawings and paintings that I don't like. This challenge forces me to upload each and everyone for 31 days - the good, the bad, and the ugly. At the beginning of the month, this makes me a little more careful about choice of subject and may even make me less spontaneous. Midway through the month I can usually overcome these feelings.
Here is my journal page from yesterday May 1st. We eat dinner at a restaurant in Grand Central Station before going to the Broadway theater - and almost always have Ceasar salad, a thin crust sausage pizza, and a glass of chianti. Last night the play with Matthew Broderick got a bad review, so we savored dinner even more.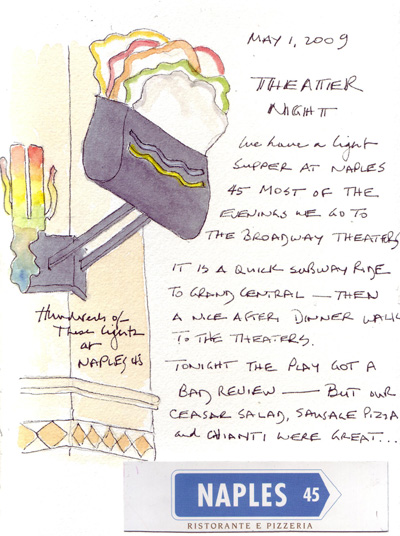 Here are several journal pages to finish posting from April. The first is from a Gauguin drawing that was a study for his Dancing Girls of Breton. The Morgan Library and Museum had the 5th installment of the Thaw collection drawings and I loved this one! The second is from a reading at Barnes Noble by Arthur Phillips - author of the Egyptologist. My book group is reading it this month. He read from his new novel, but it was still fun meeting him. This image is from the book cover - the colors are mine.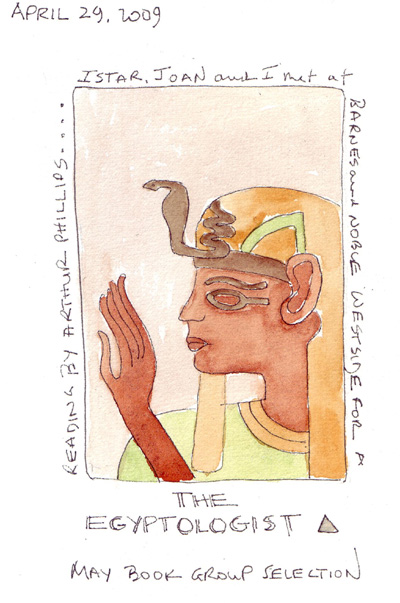 EDM Challenge 221: Hand-held game
I'm not a game player, but have a basket of cards from my children's childhood, occasional games of solitaire, and "War" with my grandchildren. This set of cards has a figure skater from the 1984 Olympics, so at least drawing it game me practice with unusual persepctive with the skater body.