Every Day in May - 4
This is the week of the Impressionist and Modern Art Auctions in New York. I love to go to the viewings to see these collections - pieces usually moving from one private collection to another, or museum to museum. Today I met a friend at Christies, and after we explored the galleries, we sketched two very small Picasso drawings. I then went off to Sotheby's to see their exhibits and sketched an Egon Schiele nude woman. These drawings become my journal pages for today and also allow me to learn more about how these artists created their lines and color. I always worry about drawing hands - neither of these artists worried about the hands - at all!
Pablo Picasso: Deux Couples Dansant - approximately 5 X 8" - a crayon drawing which I did with pen and watercolors pencils:
Egon Schiele: Seated Female Nude with Tilted Hed and Raised Arms: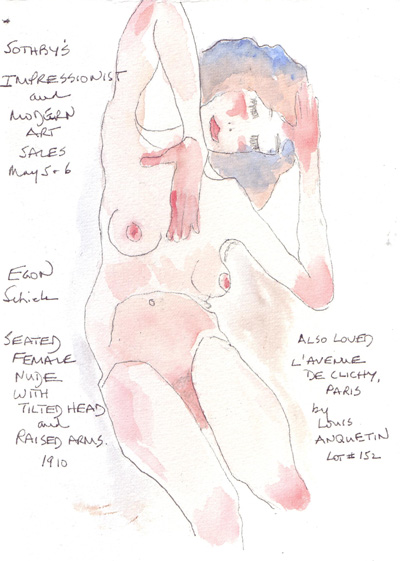 Each of the Lots has an estimated auction price and it is fun to go back to the Auction Houses' websites on Thursday to see what the selling price really was.